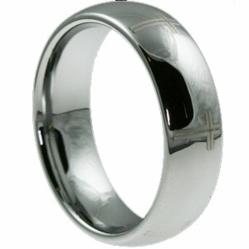 (PRWEB) February 14, 2013
Forever Tungsten Ring has Added a New Cross Ring to the Growing Collection of Rings
http://www.Forevertungstenring.com has added a new cross ring to the popular cross ring collection at Forever Tungsten Ring. The Purity ring is a simple 7mm high polished dome ring with a comfort design. The Purity has a single cross design on the surface that is beautiful and understated allowing the ring to be worn by men and women. The ring was initially manufactured after several customers were requesting a simple ring to use as a confirmation or religious ceremony gift. The ring comes in sizes 5-15 to accommodate virtually every age.
Forever Tungsten Ring, LLC added the ring to the growing cross ring collection. Along with the cross ring collection the website is also home to a popular Celtic ring collection, unique inlays found no where else and a full line of classic wedding band styles for men and women. The company currently has a 10% off coupon to all new customers with code love876. The discount code can be added at the time of checkout to receive the savings.
Purchase with confidence when choosing tungsten carbide. The metal is an 8 on the Moh's Hardess Scale which is just below a diamond. Tungsten is virtually scratch resistant in the polished form and priced much lower to more precious metals such as gold and platinum. Forever Tungsten Ring also offers a Lifetime Guarantee with each purchase for no additional fee so customers will feel secure with their ring purchase.
About Forever Tungsten Ring:
Forever Tungsten Ring™ has been a leader in Tungsten Carbide Jewelry since 2005. Forever Tungsten Ring is a member of the Better Business Bureau (BBB) and offers a secure shopping environment for their buyers. Forever Tungsten Ring offers a Lifetime Warranty with all purchases.