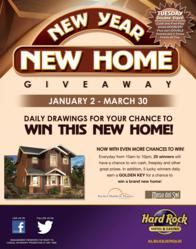 Albuquerque, New Mexico (PRWEB) February 26, 2013
Hard Rock Hotel and Casino Albuquerque revealed the "New Year New Home Give Away" effective January 2, 2013 through March 29, 2013. The Cottage Green home designed by Rachel Matthew Homes located at 5736 Witkin SE in the Mesa Del Sol community, will be given away on March 30, 2013.
"As leaders in the gaming and hospitality industry Hard Rock Hotel and Casino Albuquerque has many responsibilities. One of those responsibilities is supporting and investing in the community," stated Pamela Gallegos, CEO of Hard Rock Hotel And Casino Albuquerque. "We play a key role in facilitating community involvement and ensuring that the contributions are used in the most effective way possible that is why this partnership is so important."
Hard Rock Hotel and Casino Albuquerque will be conducting 25 drawings every half hour with opportunities to win cash, free play or various household prizes. Also five winners will qualify receive a golden key for the chance to win the home.
On March 30, 2013 all qualifiers must return and check in between 4:00 p.m. and 7:00 p.m. to determine the order in which they select a golden key. The giveaway will begin at 8:00 p.m. Only one key will unlock the door to the brand new home. A total of $297,000 in Cash, $198,000 total in Free Play, and over $24,750 worth of gifts will be given away.
About Hard Rock Hotel & Casino Albuquerque
The stage is set at the Hard Rock Hotel & Casino Albuquerque featuring a 6 story tower and a total of 201 guest rooms; approximately 100,000 square foot casino; a relaxing indoor/outdoor pool; 30,000 square feet of convention space; a 2,500 seat multi-purpose theater for concerts and sporting events; restaurants; Center Bar; cocktail lounge and live entertainment. Hard Rock Hotel & Casino Albuquerque is located in the heart of the Land of Enchantment; the property is dramatic, yet graceful combination of striking architecture and rock n' roll vibe. Impeccable hospitality with personalized attention provides each guest with an unmatched experience. The Hard Rock Hotel and Casino Albuquerque includes premier entertainment, the décor, memorabilia, and merchandise that have made the Hard Rock brand famous around the world.