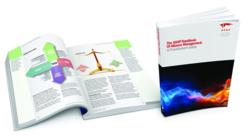 Canton, Mass. (PRWEB) February 19, 2013
The Association of Strategic Alliance Professionals (ASAP) today announced that The ASAP Handbook of Alliance Management: A Practitioner's Guide, the most comprehensive reference book for devising strategy and executing strategic alliances, is now available to the public for purchase. The Handbook contains more than 250 pages of painstakingly-detailed processes, methodologies, tools and current thinking that cover just about every possible situation in all phases of an alliance—partner selection, planning, negotiation, execution and termination/reevaluation.
More than 30 thought leaders and seasoned veteran alliance management practitioners representing a cross-section of industries and multiple countries contributed to this thorough compendium of practices, principles and current standards of the profession that cannot be found in business schools. This Handbook is indispensable for professionals of any level who manage close business collaborations full time as well as people in other parts of the organization charged with critical alliance-related responsibilities (e.g., sales, marketing, R&D, legal, regulatory, etc.). It also outlines how to engage all relevant stakeholders of a partnership from the C-Suite and other senior leaders to employees in other divisions to representatives of partner organizations.
"ASAP is always at the forefront of defining and evolving current standards of the profession so that practitioners are up to date on the latest thinking in alliance management in the context of today's business world. We also strive to be the go-to association for alliance management career development capabilities," said Art Canter, president and CEO of ASAP. "With the Handbook at their side, alliance personnel have immediate access to knowledge that can help them through difficult or unfamiliar situations at any time—and aid their growth as professionals."
A Reference Guide That Is Central in Today's Increasingly Collaborative Landscape
A faster pace and smaller windows of opportunity characterize today's business world. Consequently, organizations are encountering more situations in which they are choosing to partner to achieve core business goals rather than build or buy. With more companies turning to alliances to open new market segments, fill solution/offering gaps, increase efficiencies and access intellectual property, the Handbook helps companies optimize their collaboration capabilities so that their alliances achieve their stated goals—ASAP members' partnerships deliver their intended objectives at a higher rate than the industry norm.
"The Handbook's content reflects the global economic changes that have taken place over the last decade," said Canter. "There is a greater onus on businesses to 'get partnering right.' Our reference book helps steer companies to success when 'partner' is the decided course of action."
"Organizations of all sizes and across a variety of industries recognize the growing importance of business collaborations to their company strategy, yet they are not equipping their key personnel with the tools and skills needed to see alliances to fruition," said Ard-Pieter de Man, professor of strategy and organization at VU University Amsterdam and author of ASAP's 4th State of Alliance Management Study. "These companies need The ASAP Handbook of Alliance Management to ensure their alliance personnel—as well as the key stakeholders in senior management, sales, marketing, legal, regulatory affairs, and other parts of the organization that touch alliances—are applying the most current principles in executing partnerships that are increasingly determining their overall success."
All-New Content for All Stages of the Alliance Life Cycle
The ASAP Handbook of Alliance Management: A Practitioner's Guide is the third edition of ASAP's compilation of the profession's standard-setting practices and principles. The first two iterations, then called the Strategic Best Process Workbook, were released in 1999 and 2004. This latest version contains an entirely new section on emerging topics in alliance management, which covers evolving thinking on alliance capability, cultures, and professional development; alliance networks; and alliance portfolios. The new Handbook also:

Includes new guidance on evaluating potential partners based on their capability to adapt and partner effectively
Discusses how to manage cultural differences across company and international boundaries
Separates the final stage of the alliance life cycle into two distinct phases—"Launching and Managing" and "Transform, Innovate, or Exit Gracefully."
The Handbook also contains content on all material covered in the exams for the two main levels of certification: 1) the basic Certification of Achievement – Alliance Management (CA-AM), and 2) the advanced Certified Strategic Alliance Professional (CSAP) designation.
The ASAP Handbook of Alliance Management: A Practitioner's Guide retails at $299.99. ASAP members can receive up to a 60 percent discount off the cover price. Buyers can order the Handbook at http://www.strategic-alliances.org/handbook.
About ASAP
The Association of Strategic Alliance Professionals (ASAP) is the only professional association dedicated to elevating and promoting the profession of alliance management. Founded in 1998, the organization provides professional development, networking and resources for cultivating the skills and toolsets needed to manage successful business partnerships. Active global members include AbbVie, AstraZeneca, CA Technologies, Capgemini, Cisco, Citrix, Dell, Eli Lilly and Company, IBM, the Janssen Pharmaceutical Companies of Johnson & Johnson, Microsoft, Motorola, Novartis, Quintiles, Sanofi, SAS, Schneider Electric, Symantec, USAA, Verizon, VMware and Xerox. A complete list of global members is available at http://www.strategic-alliances.org.
ASAP Media, the media and publishing arm of the Association of Strategic Alliance Professionals, is an alliance of ASAP and JW DeWitt Business Communications. For more information, visit http://www.asapmedia.org and http://www.jwdewitt.com.