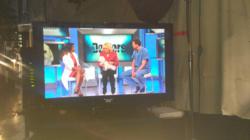 Bella is helping Castriota with her cancer and her message to woman about getting their yearly mammograms
Pittsburgh, PA (PRWEB) February 20, 2013
Award winning childrens book author/illustrator and breast cancer patient Susan Castriota is fortunate to have a dog with the ability to sniff cancer. Bella, a white Havanese, is also a character in Castriota's children's book series WILSON GETS ADOPTED! Bella sniffed Castriota's cancer months before she had her yearly mammogram and was told she had breast cancer.
Susan Castriota was diagnosed with breast cancer (Invasive Lobular Carcinoma) for which she underwent a bi-lateral mastectomy in December 2012. As Castriota continues her treatment, she is working on a new book about working dogs, which will include her cancer sniffing dog Bella. Castriota has come to learn that many dogs like Bella have the ability to detect cancer and that some of them have been trained to perform this important task. The Pine Street Institute and other research organizations have confirmed this conclusion through scientific analysis. Susan believes that Bella detected her illness and was attempting to send a message.
Castriota's childrens books series "Willie Wilson's Wondrous Tails" are feel good books with valuble lessons for children. WILSON GETS ADOPTED!, teaches children about pet adoption, WILSON LEARNS MANNERS! teaches children the importance of good manners, WILSON AND THE WHITE HOUSE PUPS, is a fun history lesson about the White House dogs, and WILSON WON'T BE BULLIED!, shows children how to avoid being a target of bullies. Ironicly, Bella is helping Castriota with her cancer and her message to woman about getting their yearly mammograms.
The story about the Bella the cancer sniffing dog aired on WTAE, Pittsburgh and was one of the top viewed stories on the Yahoo home page on January 8, 2013. Susan and Bella will be appearing on an episode of THE DOCTORS show in the near future.
Susan Castriota, Pittsburgh, PA, 412.833.7556, http://www.wilsongetsadopted.com