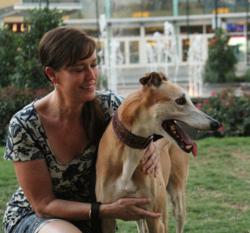 Dallas, TX (PRWEB) February 14, 2013
Dallas author Suzanne Burke's second book in the Logan trilogy titled, Logan and the Mystical Collar, makes a pre-launch appearance Saturday evening, February 23, 2013 at the Greyhound Adoption League of Texas (GALT) 12th Annual Greyt Gala as a prized auction item. Proceeds will benefit GALT. The Greyt Gala Dinner and Auction will feature celebrity guests including native Texan, movie/television actress Janine Turner, FOX Sports TV Personality John Rhadigan, Actor Burton Gilliam, Dallas Mavericks' TV voice, Mark Followill and more. The annual event features cocktails, 3-course dinner, live and silent auction and the opportunity for guests to mingle with celebrities and athletes. GALT is a 501 (c)(3) non-profit all-volunteer group dedicated to placing all greyhounds into loving homes. "This is an exciting event we look forward to each year where the public has the opportunity to meet many retired athletes, and through fundraising, help retired racing greyhounds reach their forever homes safely", says Ms. Burke.
Although the book will not officially be released until April 30, 2013, Ms. Burke will be donating her first signed copy of Logan and the Mystical Collar at the Gala. It is an adventure packed story that places Logan and his friends in a land filled with mystery and intrigue - Ancient Egypt! In true Logan style, he gets caught up in some crazy adventures with some kooky characters, all the while trying to keep his new friend, Cleopatra, safe from harm! This is an entertaining and educational adventure for both children and adults. Included throughout the story are historical facts about Ancient Egypt, its amazing architecture, and mysteries, as well as addressing sensitive issues children face in life such as bullying and dealing with adversity. At the end of the story is a vocabulary list of words for children to expand their word usage and a projects section for children to learn more about Ancient Egypt and express their creativity through writing and critical thinking exercises.
GALT's 12th Annual Greyt Gala Dinner & Auction will be held Saturday, February 23, 2013, from 6:00 PM to 10:00 PM at the Hilton in Southlake Town Square. Tickets are open to the public. To find out more about attending, go to this link: http://www.galtx.org/events/greytgala13.shtml
To find out more about Suzanne Burke's work and her stories, visit http://www.greyhoundstories.com. Her first book in the Logan trilogy, Logan's Secret, is available on her website and also on Amazon.com and Barnesandnoble.com.
Review copies and interviews available upon request.
###
PJ Nunn
972-825-1171
Nunn.pj33@gmail.com
http://breakthroughpromotions.net