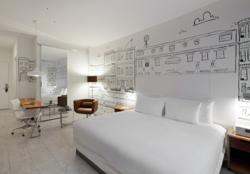 "The NU Perspectives project epitomizes NU Hotel's dedication to art and the Brooklyn community," said Javier Egipciaco, NU Hotel Brooklyn's general manager.
Brooklyn, NY (PRWEB) February 14, 2013
Local artists have brought their creative touch to the walls of NU Hotel Brooklyn, literally, by transforming a few of the hotel's 93 rooms with floor-to-ceiling murals for the NU Perspectives project. To celebrate the imaginative and colorful murals, the hotel is hosting a NU Perspectives art opening on February 21, 2013 with neighborhood partners Urban Folk Art®, Brooklyn Republic Vodka and Bar Tabac.
The evening's festivities kick off at 6 p.m. with a gallery reception at Urban Folk Art®/ Brooklyn Tattoo, an art gallery and tattoo shop located down the street from the hotel. The gallery is co-owned and co-operated by NU Perspectives artist, Adam Suerte.
Immediately following the reception, guests are invited to an art opening and tour from 7 p.m. – 9 p.m. at NU Hotel on the corner of Smith Street and Atlantic Avenue in Downtown Brooklyn. At the opening, NU Perspectives artists will discuss their artistic and creative process. Misdemeanor, NU Hotel's lobby bar and lounge, will host the reception featuring light bites and a cash bar. Complimentary vodka will be provided by liquor sponsor Republic Vodka from 7 p.m. to 8 p.m.
"The NU Perspectives project epitomizes NU Hotel's dedication to art and the Brooklyn community," said Javier Egipciaco, NU Hotel Brooklyn's general manager. "The NU Perspectives guestrooms have already received a great response from our guests – now it's time to showcase them to the larger community through an event that travels around the neighborhood with NU Hotel at its core."
Starting at 9 p.m., Bar Tabac, a French bistro located down Smith Street, invites NU Perspectives party attendees to an after party featuring live music. Attendees receive a complimentary glass of champagne with the purchase of a dinner entrée.
Learn more about the NU Perspectives project and the artists by visiting NU Hotel's website. The February 21, 2013 NU Perspectives party is open to the public, but RSVP is required. RSVPs should be sent to: events at independentcollection.com. At this time, guests can request to reserve a NU Perspectives room by calling the hotel for availability.
About NU Hotel Brooklyn:
NU Hotel is inspired by the dynamism of Brooklyn and an urban style apartment. The Brooklyn boutique hotel offers modern, simple design, luxury amenities and exceptional service at the center of four great neighborhoods: Cobble Hill, Boerum Hill, Park Slope, and Carroll Gardens. NU Hotel is a member of the Independent Collection.
About The Independent Collection:
The Independent Collection is a growing collection of smaller, more intimate boutique lifestyle hotels located in truly unique neighborhoods of gateway cities across the US. The collection is founded on the principles of authenticity, leadership, generosity, and modesty. Hotels of the Independent Collection are created for the independently minded traveler.
About HHM:
HHM, formerly known as Hersha Hospitality Management, operates 115 hotels across the United States. It provides turnkey hotel management, asset management and receivership for properties with leading brand affiliations through Marriott, Hilton, Hyatt, Starwood, and Intercontinental Hotel Group. HHM also operates 14 independent hotels ranging from the AAA Five Diamond Rittenhouse Hotel in Philadelphia, to the oceanfront Postcard Inn in the Florida Keys. Its highly experienced team is accustomed to serving as a fiduciary to publicly traded companies, joint ventures, institutional real estate owners and private investors. Additional information on HHM can be found at hhmhospitality.com.
For further information, please contact NU Hotel Brooklyn at 718.852.8585, http://www.nuhotelbrooklyn.com. For further press inquiries, contact: Mary Gollhofer at 267.238.5025, mary.gollhofer at hhmlp.com.