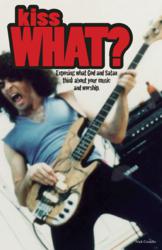 Joel Smith, Former Director Eastern Region Youth For Christ says: With his experience, knowledge and abilities, Nick does a tremendous job helping kids see secular rock music is a dead end street and that the answers to spiritual longing are in Christ.
Canandaigua, ew York (PRWEB) February 15, 2013
Would a Christian teenager offer his or her heart up to the devil? Satan is viciously waging war for the attention of today's Christian youth. When Christian teenagers befriend the devil by listening to ungodly music, they are giving the devil the honor, glory and worship only God rightly deserves. Teenagers don't recognize, when they listen to music representative of the devil's kingdom, they're opening the door of their hearts and minds to his voice and feasting on his poisons. He is succeeding in his efforts to lure Christian teenagers away from Christ.
Nick has discovered this to be true: Too many are deceived into believing God doesn't care, they sin by listening to the many styles ungodly music, especially rock and rap, therefore grieving the heart of God! Every teenager needs to know, understand and believe the powerful and dangerous influence ungodly music can have on their spiritual growth and relationship with God!
But this insightful book, KISS WHAT? Exposing What God And Satan Think About Your Music And Worship, is more than just another book addressing a most relevant issue in Christian parenting and youth ministry, a teenager's music and entertainments. It also teaches Christian teenagers how to become a champion worshiper of Christ, resist peer pressure, trust God in the storms of their life, take a stand for godly living and so much more. He writes from his personal life experiences, 20 years of speaking to youth and his own battles surrendering his music and complete life to Christ.
The book concludes with a prayer teenagers can pray surrendering their music and all they are to Jesus Christ. An unbeliever is taken through a simple Gospel presentation and offered an opportunity to receive Christ into their life.
A must read for every Christian teenager and needed teaching tool in Christian parenting and youth ministry today.
Click here to view book promo trailer!
Prior to his conversion to Christ, Nick lived a fast lane lifestyle of sex, drugs and rock and roll spanning over 25 years. He attained his childhood dream of becoming a rock star with Canadian/American recording artists, Toronto. Nick is an evangelist, youth communicator, conference speaker and worship leader. He travels the country telling his life story, proclaiming the Gospel of Jesus Christ and calling Christians to a life of uncompromising obedience to God. Nick is a graduate of The Billy Graham North American Institute For Emerging Evangelists.