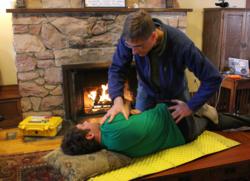 One of the benefits of being a chiropractor is the ability to remove pain and get a person to a happier, healthier place with just my hands and, in this case, a coffee table - Dr. John
Boulder, CO (PRWEB) February 14, 2013
In January Dr. John Dandelski, chiropractor and owner of Sport and Wellness Chiropractic, traveled into the backcountry of Colorado to provide first aid and chiropractic care during the filming of an Outside Magazine / Television reality series.
Outside Television chose six aspiring filmmakers to journey into the Colorado backcountry to create their very own epic adventure film. Outside Television crews documented the student's s entire process from conception to completion of final film. The brand new original series on Outside TV will air in April 2013. Dr. John provided care at altitudes up to 12,500 feet during this week-long adventure. You may catch glimpses of him adjusting some of the cast and crew, so keep an eye out in April!
Dr. John thanks Outside Television and Emmy-award winning filmmaker, Michael Brown, for inviting him to participate in this awesome adventure.
About Sport and Wellness Chiropractic:
Sport and Wellness Chiropractic has two locations. The first is housed within Positively Chiropractic in Annandale VA ((5105 Backlick Rd., Annandale, VA 22003, 703-842-8685). Dr. John also has a second location in Washington, DC (888 16th St., NW, Suite 800, Washington, DC 20006, 202-505-1870). Dr. John is also licensed to practice chiropractic in Colorado.
While Sport and Wellness Chiropractic caters to the athlete (especially swimmers, cyclists, runners, and rowers) patients of all ages and activity levels seek out Dr. John for his experience in dealing with troublesome injuries, aches, and pains. Dr. John is also a Certified Chiropractic Extremity Practitioner (CCEP) and Active Release Technique® (ART) provider.
Contact:
Dr. John Dandelski, D.C., Chiropractor/owner
Sport and Wellness Chiropractic 202-505-1870
http://www.sportandwellnesschiropractic.com
For more information, please go to the Sport and Wellness Chiropractic website at http://www.sportandwellnesschiropractic.com.