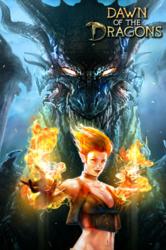 With Dawn of the Dragons' availability on the App Store, gamers can now access 5th Planet's signature style of core gaming on their smartphones and tablets for the first time.
Roseville, CA (PRWEB) February 14, 2013
5th Planet Games, Inc., an independent developer of core, free-to-play online games, announced its move to mobile today with the availability of Dawn of the Dragons on the App Store. Known for its unique social gameplay, lavish artwork, and gripping storyline, the popular MMO RPG has attracted a passionate and dedicated following on Facebook, Kongregate, Armor Games and its own web site. With Dawn of the Dragons' availability on the App Store, gamers can now access 5th Planet's signature style of core gaming on their smartphones and tablets for the first time.
Dawn of the Dragons for iOS re-imagines the artwork and imagery of the original game with a sleek new interface that has been customized for the touch-screen controls of iPhone, iPad and iPod Touch devices. The in-depth game immerses players in the ancient Kingdom of West Kruna, where the people cry out for a hero to save them from a horde of dragons and bestial creatures come to steal their land. Players must take up arms, band together, and strategize their way to victory by completing a series of quests, raids and other challenges in this unique hardcore social MMO game.
"Dawn was our very first game and the one that really kicked it all off for us, so it's only fitting that it's also our first game on mobile," said Robert Winkler, Co-founder and CEO of 5th Planet Games. "I'm really proud of the work that our whole crew did to bring the game to mobile the way that we have. This is something that our community has been clamoring for, and we are excited to let them play Dawn and, coming soon, all of our other RPG and CCG titles on their mobile devices."
Dawn of the Dragons provides iOS gamers with rich, high production value artwork depicting a persistent world full of mythical towns, dangerous forests, and remote, unimaginable areas where only savage tribes roam. Players can both compete and cooperate with their fellow gamers in real-time as they are pitted against one another in Player-versus-Player battles and also brought together through player-run Guilds. Guilds are an essential part of the experience, allowing players to come together for camaraderie and to carry out collaborative raids against their hideous enemies—the dragons. The game ties into Apple's Game Center for enhanced social functionality.
"There are relatively few core games available on mobile platforms today, and certainly nothing quite like Dawn of the Dragons," said Rob Carroll, 5th Planet Games' Chief Mobile Officer. "We feel that with Dawn's unique social features and in-depth strategy requirements, it raises the bar for the entire genre. We put a lot of effort into maintaining the essence of the game's online version while fine-tuning it for the smaller screens and multi-touch interfaces of mobile devices. The end result is something that should greatly please our existing fan base while attracting a whole new segment of gamers as well."
Dawn of the Dragons is free to play and available on the App Store for iPhone, iPad, and iPod Touch devices at https://itunes.apple.com/app/dawn-of-the-dragons/id505037441. Game updates can be found by following @5pg_DotD on Twitter or by liking 5th Planet Games on Facebook at https://www.facebook.com/5thPlanetGames. For game logo, screenshots and other assets, please contact matt(at)fluidspeak(dot)com.
About 5th Planet Games
5th Planet Games is an independent developer of core, free-to-play games designed for casual gamers and hardcore enthusiasts alike. Established in 2009, the company's mission is to build games that the employees themselves would want to play, and the results are several successful Role Playing Games and Collectible Card Games including Dawn of the Dragons, Legacy of a Thousand Suns, Clash of the Dragons, and Legacy of Heroes, all available on Facebook, Kongregate and their own destination web sites. In 2012 the company acquired To Be Continued, LLC, a leading developer of Collectible Card Games. 5th Planet Games is headquartered in Roseville, California, with offices in New York. For more information, visit http://www.5thplanetgames.com.
# # #
Media Contact
Matt McAllister
Fluid PR
(510) 229-9707
matt(at)fluidspeak(dot)com
Company Contact
Brittany Lease
Marketing Manager
(916) 782-1506
blease(at)5thplanetgames(dot)com