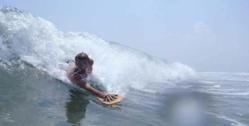 A handboard helps keep the bodysurfer planed out in the perfect position in the wave to get the ride of their life on every wave.
(PRWEB) February 15, 2013
With a major focus on innovation in all boardsports, Faceplant Boardriders owners Ricky Wheeler and Rob Wheeler are always looking for new ways to get people riding more boards. They decided a couple years ago to make some handboards for bodysurfing in their local New Jersey, Delaware, and Maryland waters. What they created was something that was an element of its own: handboarding. FB Owner/Rider Rob Wheeler said, "Originally we started making these for the days when the surf wasn't too great for surfing, but we could still have fun in the waves bodysurfing. Now we take the handboards on surf trips with us and find ourselves handboarding most of the time."
Handboards, also known as handplanes, have been gaining popularity amongst the surfing crowd the past couple of years, and are beginning to gain popularity amongst children and anyone else looking to have fun in the surf during the summer months. On days where the surf is mellow and under waist high, all someone needs is a handboard to go out and get some great waves bodysurfing. On days where the surf is a little larger, swim fins are a big help to catch the waves and a handboard helps keep the bodysurfer planed out in the perfect position in the wave to get the ride of their life on every wave.
FB Owner/Rider Ricky Wheeler said, "I never thought I would say this, but I find myself wanting to go handboard now more than I want to surf. They are so much fun no matter what size the waves are, and you can catch twice the amount of waves on a handboard compared to a surfboard."
Faceplant Boardriders has created 4 different handboard shapes so there is something for everyone looking to have fun in the surf. As with all Faceplant Boardriders products, their handboards are handcrafted. FB handboards are made from recycled wood and epoxy so they float, are strong, lightweight, and will glide the bodysurfer down the line of a wave effortlessly. Faceplant Boardriders makes their handboards in a wide variety of different wood stains, paint schemes, and art.
Faceplant Boardriders offer 4 different handboard shapes, and they are working on 2 more prototypes. The Spearhead, Bullet, and Torpedo handboards come with either a strap or a hole in the board for the bodysurfer to put their hand through. Faceplant calls their hole through design "brass knuckles" because they resemble the hole for your fingers in brass knuckles. Their smaller handboard, the Sharktooth, is only offered with a strap.
Each shape has a purpose, but all of Faceplant's handboards have one thing in common, they are pure fun. FB handboards retail for $40-$60 which is much more affordable than the worthy competition. To see more information on Faceplant Boardriders handboard shapes and to see their Handboarding Promotional video, go to http://faceplantboardriders.com/products/category/1381.