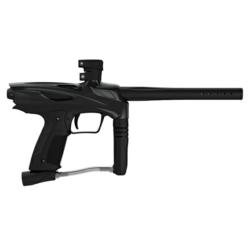 Super sweet paintball gun for all paintball players. you will see the GoG eNMEy at many paintball fields this season
morgan utah (PRWEB) February 14, 2013
The GOG eNMEy Paintball gun puts a high performance operation and tournament capable paintball marker into the paintball players' hands at an entry level price! The GOG eNMey is a semi automatic paintball marker that uses a full pneumatic system similar to high end tournament markers. With only one moving part, the eNMey does away with the standard sear and heavy hammer to make the marker fire. Combined with its low 160 psi pressure, this makes the eNMey shoot with very low recoil and pillow soft gentle on the paintball. The trigger pull on the eNMey is short and crisp, letting players achieve a rate of fire unheard of in previous non-electronic entry level Paintball guns. The Bolt Out Back system makes the GOG eNMEy Paintball Marker very fast and simple to clean and maintain, only requiring one part to be unscrewed to clean and grease the bolt.
The GOG eNMEy Paintball Marker will operate on regular CO2, thanks to its integrated relief valve to prevent pressure spikes from liquid CO2 entering the regulator. The eNMey does shoot best on compressed air (HPA). The eNMey's composite feed-neck is incredibly strong, featuring a clamping design to keep your hopper in place.
In addition it comes with a limited lifetime warranty GOG wants you to be confident in your purchase. Some restrictions and exclusions apply. See warranty for details.
For more information visit
http://www.actioncenterpaintball.com
http://paintballguns.tv