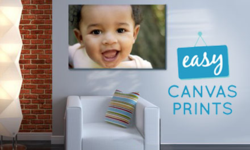 Easy Canvas Prints does still offer cheap canvas prints at half off
(PRWEB) February 17, 2013
What used to be only a Black Friday sale through Easycanvasprints.com has been extended for a limited time and is still available through Finding It For Less, offering 50% off all sizes of personalized canvas prints.
Finding It For Less has offered deals with easycanvasprints.com in the past. However, F.I.F.L. recently discovered that the "one day only" sale of any size canvas print has actually been extended, and not only a little bit, but it is still available today.
So here is the good news that warrants this press release: Easy Canvas Prints does still offer cheap canvas prints at half off currently. However, no one can get that price with the old coupon code that was for the Black Friday sale. Truth is people have been buying full size canvas prints at full price under the assumption that the half off Black Friday promotion is done and over with, and have been missing out on the ongoing deal that simply runs now under a new promotional code offering the same half priced full sized prints. Now that Finding It For Less has gone public with this information, they are hoping that no one will spend full price at easycanvasprints.com while this new offer is still available.
Finding It For Less would also like to apologize for the lack of offering current information regarding easycanvasprints.com and if anyone has missed out on the promotion because their research team somehow missed the changing coupon code, extending the discount. F.I.F.L. has updated the required fields on their site, and changed the information that once informed visitors that the half off price was a one day only sale, to now an extended and ongoing promotion still offered at Easy Canvas Prints.
Finding It For Less thanks the readers, loyal fans, and followers for staying tuned with their latest updates to their site, and changes that are continually taking place over at F.I.F.L.