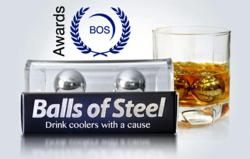 The Balls of Steel (BOS) awards are the first step in building the OriginalBOS, Balls of steel, online community
Newport Beach, California (PRWEB) February 22, 2013
Today, OriginalBOS announced its latest approach to helping spread awareness for Testicular Cancer, the Balls of Steel Awards. The Balls of Steel (BOS) awards are the first step in building the OriginalBOS, Balls of steel, online community. OriginalBOS will use Balls of Steel, the stainless steel drink coolers with a cause that chill whiskey wine and spirits as a giveaway for selected participants http://www.originalbos.com. The Balls of Steel awards were launched to aid the awareness of both testicular cancer victims and survivors. OriginalBOS aims to better position the company as a life style brand with a cause.
The participants enter the Balls of Steel awards by simply writing a comment about how they or a friend have illustrated what it means to have "balls of steel" in their everyday lives. The awards are publicly given at the end of each week on the company's Facebook page here: http://www.facebook.com/OriginalBallsofSteel/app_190322544333196 and site here: http://www.originalbos.com/pages/balls-of-steel-awards. The winners are selected by the OriginalBOS team with the emphasis on extreme lifestyles and extreme triumphs or difficulties.
Winners of the Balls of Steel awards will be given a free set of Balls of Steel the non-ice, whiskey, wine or spirit drink coolers. A percentage will still be given directly to supporting Testicular Cancer cure research and the product will continue to be "drink coolers with a cause".
The Whiskey drink coolers, Balls of Steel will continue to be available for immediate purchase via http://www.OriginalBOS.com.
For press related matters contact: support(at)originalbos(dot)com