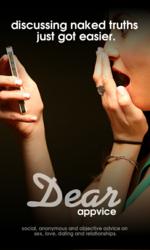 Minneapolis, Minnesota (PRWEB) February 14, 2013
New World Productions with Appmosphere Inc. announce the launch of their new mobile app, "Dear Appvice," for both iPhone and Android users on Valentine's Day. The free app is designed to give users social, anonymous and objective advice on sex, love, dating and relationships. This app lets users hang that dirty laundry out on the social network without anyone knowing it's in their back yard.
With the growing concerns on personal information being readily accessible on social networks and privacy an increasing concern, Dear Appvice is designed to provide an arena for people to advise one another collectively and anonymously. Users can give advice, get advice, rate advice and view advice on sex, love, dating and relationships.
Users will feel comfortable knowing that they can ask anything, anytime, in a fun, social and secure environment and in return receive objective insights on the questions to issues that aren't always so easy to ask.
Dear Appvice is a user content driven mobile application. Offering an open ear and free advice, its goal is to help people evolve beyond today's social chatter and into an age of social collectiveness.
App users indicate their gender, their age, and create a fictional name for themselves. Users can pose a question to any gender ages16 to 99 or use the built in filter to set specific parameters. Dear Appvice advisors are also rated on their advice for each category. Overall ratings are listed in the app's "My Advice" section.
The makers of Dear Appvice see this as a first step. The second is to launch the app in multiple languages. The third is to implement translation capabilities to create a global community of advisors. Dear Appvice will allow people to openly discuss one of the common threads true to everyone, matters of the heart.
Contact:
Appmosphere, Inc.
Todd Andrew Gross
todd(at)appmosphereinc(dot)com
1500 NE Jackson Street Suite #402 Box 181 Minneapolis, MN 55413
Ph: 1.612.338.6448
http://www.dearappvice.com
http://www.facebook.com/DearAppvice