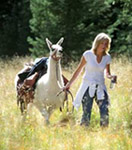 Taos, NM (PRWEB) February 15, 2013
For spring break, many families and students alike are looking to create memorable vacations. Taos, New Mexico has a variety of one-of-a-kind adventures – ranging from creative, to cultural, to active, and playful – that offer a rejuvenating break from the stressors of school or work.
Taos, New Mexico recently launched its "Adventures de Taos" program, which are recommendations by locals of what to do in Taos, and are broken down into four categories: Creative Adventures, Cultural Adventures, Active Adventures and Playful Adventures. Several spring break activities are prime Adventures de Taos.
Active Adventures.
Taos' wide-open landscape and high-desert climate make it appealing to outdoor enthusiasts looking for a good time especially during spring break.
Snowshoe under a full moon, ski or snowboard – Taos Ski Valley (TSV) was recently named one of the top 10 "Best Destinations in the U.S. and Canada for Skiers and Non-Skiers" by Reuters. Whether its skiing or snowboarding, snowmobiling or snowshoeing under a full moon, TSV gets an average of 305 inches of snowfall per year and has 113 trails. The 2013 season continues through April 7, 2013. Full moon snowshoeing takes place on March 23 at 7 p.m. and March 27 at 10 p.m. TSV's Martini Tree Bar celebrates St. Patrick's Day on March 17 with live music starting at 4 p.m.
White Water Rafting – Feel an invigorating splash of water while rafting down the Rio Grande on Class 3, 4, or 5 rapids. Los Rios River Runnners is one of the only rafting outfits that starts the season in early March, in time for spring break. Los Rios River Runners offers other adventures such as the family friendly "paddle and saddle," which includes rafting, horseback riding and lunch. Call 800-544-1181 or visit losriosriverrunners.com for a full list of available excursions or visit taos.org/outdoors/rio-grande for a full list of rafting outfitters.
Llama Trekking – Wild Earth Llama Adventures of Taos was voted "Top 10 Best Tours in the Country" by Travel Advisor. Hike through the Sangre de Cristo mountains or along the Rio Grande Gorge with 360 degree views of the peaceful, picturesque mountains. The guided hike comes with lunch, useful tips on outdoor survival techniques, and descriptions of local flora and fauna including those that are medicinal and edible. Prices start at $99 for a "take a llama to lunch" day hike but multi-day treks and overnight camping are also available.
Creative Adventures.
Taos is recognized as the Original Art Colony since numerous artists over the years have fallen in love with its light, culture and landscape. Learn iPad painting, weaving with a standing loom, and more with available workshops which, in some cases, have special spring break discounts or packages.
Photography Workshops – Learn how to compose outdoor images with professional photographer Michael de Young through a variety of customized workshops. Visit deyoungoutdoorphotography.com for details. Photographer Geraint Smith also leads a number of half and full day photo workshops with special group rates available. Visit geraintsmith.com or email geraint(at)gertainsmith(dot)com for details.
Cooking Studio Taos – Learn to cook a new ethnic style of food to share with friends back home, taught by award winning Chef Chris Maher of Cooking Studio Taos. For spring break 2013, students will get a 10 percent discount on classes. Classes range from Vietnamese Cuisine (March 16) to Cuban Cuisine (March 17) to Greek and Mediterranean (March 23) and more. For a complete list of classes call 575-776-COOK.
Cultural Adventures.
With a distinctive tri-cultural history, Taos is brimming with cultural activities during spring break that are both economical and fascinating.
Taos Pueblo – Deemed by Budget Travel as one of the top 10 "Places Every American Should See," Taos Pueblo is the only living Native American community designated both a World Heritage Site by UNESCO and a National Historic Landmark. The multi-storied adobe buildings have been continuously inhabited for over 1,000 years. Get a personal glimpse of life on the Pueblo with a tour led by a pueblo resident or visit the gallery workshops of Pueblo artisans. Call 575-758-1028 for details. 
See Five Historic Museums for $25 – Even though it's spring break, learning should never take a back seat. Museum Association of Taos has an offer where visitors can see save 60 percent off by purchasing a $25 pass which includes access to: Harwood Museum of Art, Blumenschein Home and Museum, Millicent Rogers Museum, Taos Art Museum and La Hacienda de los Martinez. The ticket will be honored for one year from the date of purchase. Visit taosmuseums.org for details. Now at the Harwood Museum, see videotaped interviews from people directly associated with the Taos Moderns at the Mandelman-Ribak Foundation's "Oral History Project" exhibition now through May 5, 2013.
Playful Adventures.
Students and families alike can reconnect with their "inner child" by discovering something new and taking time to have fun.
Tour an Earthship. Taos is very eco friendly so it's no surprise that it is also the world headquarters of the Earthship Biotecture community. Earthships are self-sustainable solar homes made of recycled materials, and are cropping up all over the world. A group can even rent one while staying in Taos. In fact, TripAdvisor.com named earthships as one of their top 10 "Quirkiest U.S Lodging Properties." Self guided tours of these funky, yet practical structures are also available at their headquarters located at #2 Earthship Way in Taos. Summer hours 9am - 6pm. Call 575-751-0462 for details.
Soak the Stress Away.Ojo Caliente Mineral Springs Resort and Spa, just 45 minutes outside of Taos, is a great stress reliever and is the only hot springs in the world with four different types of healing mineral waters - arsenic, lithium, iron and soda springs. Ojo is also listed on the National Registry of Historic Places and offers private pools, massages, spa treatments, steam room, and mud pool. Visit ojospa.com for details. For a the more adventurous, Manby Hot Springs offers several sand bottomed and rock pools near the Rio Grande, just north of Taos. Likewise, Black Rock Hot Springs is a bit of a hike as well but has two mud bottomed rock pools near Taos. Visit taos.org/outdoors/rio-grande?/item/42/Hot-Springs for exact locations.
Just 20 miles southeast of Taos, along the Enchanted Circle Scenic Byway, Sipapu Ski and Summer Resort is kicking off spring break with "Hawaiian Days at Sipapu" on March 9 and 10 from 9 am to 4 p.m., featuring beach themed music, t-shirt and lei giveaways, and hula skirts. Also on March 9, Sipapu Resort is hosting a "Telemark Festival," where free ski clinics and instruction will be available for beginner and intermediate skiers starting at 11 a.m. Then from 3:30 to 6 p.m., take advantage of beer specials, prizes and beer samples at the Resort. On March 16, from 9 a.m. to noon, the family-friendly 10th annual Cardboard Derby takes place, where participants create vehicles out of cardboard and race down the mountain for a chance to compete for prizes. For more information on spring break events in Sipapu, visit sipapunm.com.
Also along the Enchanted Circle and in the spirit of spring break, Red River, NM is celebrating "Beach Weeks" from March 10 - 23, with numerous beach-themed events on the slopes before the ski season ends on March 24. The 4th annual "Pond Skim" takes place March 24 at 2 p.m, where participants ski or ride down a portion of the mountain in a daring attempt to skim across a temporary pond at the mountain's base.
Finally, Angel Fire, NM – also along the Enchanted Circle – has a spring break week celebration from March 9 - 16, with live music, themed days, prizes and more throughout the week. Angel Fire Resort is one of the few places in the country that offers night skiing from 4 - 8 p.m. on Friday and Saturdays. For more information, call 800-633-7463 or visit angelfireresort.com.
For more information about Adventures de Taos visit http://taos.org/adventure.
CONTACT: Erica Asmus-Otero 505-259-2202 Erica(at)griffinassoc(dot)com
# # #