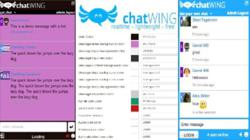 Houston, TX (PRWEB) February 15, 2013
Trendsetting is now an easy thing to do with the help of the latest chat widget offered by Chatwing.com. The chatroom tool can be embedded to any website or blog, ensuring web traffic at a continuous rate. It has also new features that can improve global connectivity and overall user access. The installation process is more efficient, saving time on the side of users.
In every niche, trends will always come and go. This is the pattern observed by the developers and researchers of Chatwing.com. Based on this observation, the company has developed a clear strategic pattern to introduce the chatbox in many online sectors. Positive feedbacks were received by the developers, and they used the feedbacks as 'templates' for upgrades and platform innovations.
Chatwing.com has also added a useful social media integration feature. Through this option, visitors can log in with their Facebook and Twitter accounts. Yahoo and Google login methods are also allowed, heightening the accessibility rate for thousands of users. Since Chatwing's chat box has the potential to accommodate thousands of users daily, everyone can communicate effectively.
When installed to websites, the chatroom tool can also provide continuous traffic stream regularly. The streams will come as moderate bouts and they will improve over the course of time. Information about any updates will also be posted in Chatwing's official Facebook page and blog series.
About Chatwing.com
Chatwing.com specializes in the new field of website chat. Over years, the development team has introduced live chat widget for hundreds and thousands of blogs. The application bridges people from many parts of the world, creating global synergy through the Internet. The shout box can be installed in just seconds, and it can be used for varying purposes such as leisure and Internet marketing. It also allows a user to customize the size, color, and name of the widget.