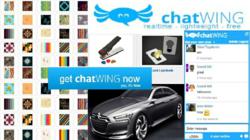 New York, NY (PRWEB) February 16, 2013
The World Wide Web has opened the door for many opportunities, and this is can be proven by thousands of professionals across the world. One of these opportunities is the global niche of e-commerce. Realizing the potentiality of online business transactions, Chatwing.com and its talented developers have created a chat widget that is capable of enhanced communication experience. In the realm of e-commerce, this embeddable chat tool can bring positive changes.
To make the chat box more user-friendly, the developers expanded the platform's customization options. Now, users can have dozens of color combinations to choose from. This can be set in the users' account dashboard. Sizes can also be altered, along with certain admin parameters. The chatroom tool features an efficient banning system. In just one click, the user can delete messages and even ban members. The user can also determine how long the member is banned.
The developers are certain that e-commerce can relatively improve with the help of the Chatwing chatbox because of its potential in reaching thousands of visitors daily. Once installed in an e-commerce website or blog, visitors can discuss freely and they can even share the links of their own websites. Registered Chatwing admins can also utilize the chat tool's versatile styles to suit their preferences.
Chatwing.com will continue creating more improvements for its chat platform. Recently, the developers and researchers conveyed a meeting regarding the company's expansion to other online sectors—preferably filtered according to countries. The company is also making a clear presence in social media to reach more web users daily.
About Chatwing.com
Chatwing.com specializes in the new field of website chat. Over years, the development team has introduced live chat widget for hundreds and thousands of blogs. The application bridges people from many parts of the world, creating global synergy through the Internet. The shout box can be installed in just seconds, and it can be used for varying purposes such as leisure and Internet marketing. It also allows a user to customize the size, color, and name of the widget.