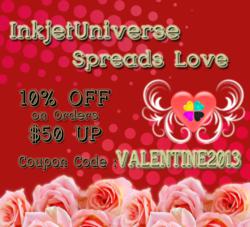 Get 12% off plus free-shipping on your printer supplies this Hearts Day!
Brea, CA (PRWEB) February 15, 2013
InkJet Universe is a reliable printer supplies retailer that specializes in compatible and remanufactured inks that are ideal replacement printer cartridges for printer under popular brand names like Brother, HP, Canon, Dell, Epson and Kodak. And to spread love this Valentines Day, InkJet Universe is offering a 10% off discount plus free-shipping on all minimum purchased orders amounting $50 and more.
To take advantage of this promo, shoppers just have to type-in or paste coupon code "VALENTINE2013" at the designated coupon code box located at the checkout page. This offer is not valid on OEM products and cannot be combined with other coupon codes or promotions. The InkJet Universe Spreads Love Promo lasts until February 17 so take advantage of this special Valentines Promo.
InkJet Universe goal is simple and that is to create a place where they can indulge there printer users' need for affordable printer ink cartridges, which can deliver the same printing quality and page yield as OEM cartridges do. Although this may not exactly be an original idea, InkJet Universe is different in a way since they value their buyers' satisfaction by bringing them the best quality printer inks in the market.
At InkJetUniverse, their simple core values create a different printing experience:

InkJet Universe will simply answer customer's calls, or emails, or chats at once.
InkJet Universe will simply ship customer's cartridges fast – the moment they receive it, if operationally possible.
InkJet Universe will give their customer's money back if ever he/she is not satisfied in any way.
InkJet Universe will give their customer's money back fast and easy.
InkJet Universe will tell their customer's exactly what he/she is purchasing. This is not to mislead customers with vague product descriptions and not claim that their products to be something they are not.
InkJet Universe will simply handle and meet any printing requirements and needs of printer users whatever brand of printing machine they have.