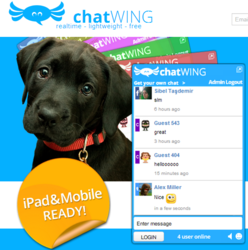 Cambridge, MA (PRWEB) February 17, 2013
Chatwing.com has started its strategic advance in the e-commerce niche by releasing a chat box that can enrich discussions between thousands of visitors. Website owners under the e-commerce niche can benefit from the chat tool's potential in creating long-term traffic and future leads. The features included in the newest chat software are social media integration, advanced customization setup, background images, banning system, and unlimited admin setup.
The Chatwing chatbox can improve the visibility rate of an e-commerce website due to its social media feature. With this, visitors can log in with their social media accounts—like Facebook, Twitter, Google, and Yahoo. E-commerce website owners can now find new clients and tips can even circulate on a regular basis. Discussions can become common in the Chatwing shoutbox because it has a thousand-user capacity—any visitor can gain much needed information.
When it comes to customization, the Chatwing chatroom has a significant edge over other applications. In the account dashboard, users have the chance to pick from many color combinations. According to the developers, this new interface has benefited thousands of website owners and bloggers. Now, they can tweak the overall appearance of the chatroom and they can design it according to their preferences. The chat app's banning system also gives high rate of flexibility. Admins can ban visitors in one click and even determine how many minutes can they become banned.
Chatwing's developers are constantly gathering feedbacks from many web users, bloggers, and website owners. These feedbacks will then be used as templates for the upcoming Chatwing upgrades and innovations.
About Chatwing.com
Chatwing.com specializes in the new field of website chat. Over years, the development team has introduced live chat widget for hundreds and thousands of blogs. The application bridges people from many parts of the world, creating global synergy through the Internet. The shout box can be installed in just seconds, and it can be used for varying purposes such as leisure and Internet marketing. It also allows a user to customize the size, color, and name of the widget.