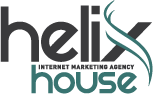 ...our team is ecstatic to know that we have taken the number one position for the second year in a row...
(PRWEB) February 14, 2013
Helix House, one of the nation's premier Internet Marketing firms, has been ranked the number one Search Engine Optimization (SEO) and Social Media Management (SMM) firm in Arizona for the second straight year by Ranking Arizona. "We were overjoyed when we first heard about our nomination, and our team is ecstatic to know that we have taken the number one position for the second year in a row," stated Michael Donato, co-founder of Helix House. "This is a true testament to the hard work and dedication of each and every Helix House team member, and a re-affirmation of the wonderful relationships we have created with our clients," Michael continued.
Ranking Arizona is the outcome of the largest business opinion poll in Arizona. Each category is selected by the staff of AZ Big Media for the general public to vote on, and are based upon business and leisure activities of Arizona's business professionals.
"With all of the amazing companies that were nominated it is a true honor that our firm has taken the number one spot two years running," adds Alona Rudnitsky, managing member at Helix House, "and we wholeheartedly believe that if we continue along this path there is nothing that can stop us from winning this award again next year."
This forward thinking attitude is reflective of the Helix House mission. The team at Helix House has continuously proven to their clients that they truly believe there is always room for improvement. "Every award, distinction, accolade and certification serves to further solidify our mission of improvement," Michael continues, "No matter how great we have done in the past we know that as a firm and a team we can do better."
Helix House is one of under two dozen Google Certified firms in the greater Phoenix area, and serves as a shining example for their local counterparts. With offices in Tucson, Phoenix and Albuquerque the team at Helix House knows that they must continue to innovate to stay at the top of their field. "Innovation is key to success in online marketing, and our firm does not take that challenge lightly. With a banner start to 2013 and the ground-breaking product lines we current have in development, saying we are excited about what this year has in store would be an understatement," stated Alona.
Having only opened their doors in 2006, Helix House's meteoric rise to become an industry leader has been no accident. Michael finishes, "From day one we made a commitment to be unlike any other firm, and that commitment is reflected in each and every decision we make. Our clients have and always will come first, no matter what that means for our firm's bottom line. We made a choice to always treat our clients with honesty and respect, while never bending the boundaries of integrity."