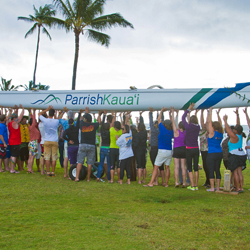 A winning crew depends on the teamwork of the paddlers and that is very similar to the spirit of my company. -- JP Parrish
Poipu Beach, Kauai, Hawaii (PRWEB) February 14, 2013
South Shore Kauai vacation rental guests can see one of the newest and arguably the fastest canoes on the island go by from their oceanfront Poipu rentals, Kauai resorts and at various Poipu Beach locations. Named "Ka Makani `O Maha`ulepu," the latest six man Bradley Lightning outrigger canoe from master canoe builder Sonny Bradley, has recently been delivered to The Parrish Collection Kauai.
Following the traditional Hawaiian blessing at Kukui`ula Small Boat Harbor, the canoe is now on permanent loan to the Kukui`ula Outrigger Canoe Club from Parrish Kauai for upcoming Kauai competitions and the world championship races Na Wahine O Ke Kai (for women) and Moloka`i Hoe (for men). These annual 40-mile crossings between the islands of Moloka`i and Oahu are amongst the longest and most grueling sporting events in Hawaii.
Known for building the fastest and most durable outrigger canoes in the world, Bradley Hawaiian Canoes have been the choice of seven time Moloka`i Hoe champions Shell Va`a of Tahiti.
"A winning crew depends a lot on the teamwork of the paddlers in the canoe and that is very similar to the spirit of my company. This canoe represents the hard work the Parrish Kauai team does every day," said JP Parrish, owner of The Parrish Collection Kauai, "and I am honored to bring another competitive Bradley Lightning into the Club," Parrish continued.
The traditional Hawaiian canoe blessing conducted by Kelvin Ho included an honor chant, placing of lei on the canoe and pouring of `awa and salt over its nose. Participants were seen forming a circle holding hands before lifting the canoe up above their hearts. Six paddlers, including company owner JP Parrish, took "Ka Makani `O Maha`ulepu" for its first voyage and then dropped an offering in the ocean before returning to shore.
Visitors everywhere can see live views of the Poipu Beach coastline and watch daily Kukui`ula outrigger canoe team practice from 6:00pm to 6:30pm (HST) on the new Parrish Kauai webcam.
For more information on Parrish Kauai vacation rentals and their distinguished services which include a complimentary guest concierge, visitors can call their reservation team seven days a week at 800-325-5701 or visit the Parrish Kauai website for further details.
About The Parrish Collection Kauai
Established in 1984, The Parrish Collection Kauai represents the island's finest selection and variety of luxury Kauai vacation rentals including the most oceanfront properties at Poipu Beach. Rated Excellent by TripAdvisor and as a "2012 Top Rental Manager" by FlipKey, their distinguished collection of 200 homes and condominiums on the North Shore Kauai and South Shore Kauai is complemented with a dedicated long-term staff and a full service Guest Concierge. Four offices are located in Koloa, Princeville and at Poipu Beach to assist guests and owners. On-line direct booking and property information is available on their website and by calling 800-325-5701.