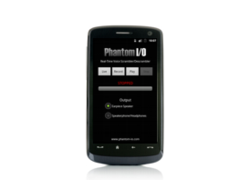 Albuquerque, NM (PRWEB) February 14, 2013
PhantomLink.com is pleased to announce the release of Phantom I/O 1.0, a real-time voice scrambler and descrambler app designed for Android smartphones and tablets. Phantom I/O transforms voice messages into garbled audio that can only be decoded by another Phantom I/O app. Audio can be processed live or recorded for later playback.
Phantom I/O is currently offered on Google Play (Android Market) for $0.99.
Phantom I/O incorporates voice scrambling and descrambling capabilities not typically found in "toy" voice processing apps. It uses advanced signal processing techniques to provide exceptionally high audio quality. The app even works at a distance and in noisy environments.
A scrambled audio clip is available on the Phantom I/O webpage to demonstrate how the processed audio sounds. Those who download the Phantom I/O app can descramble the clip to hear the original message.
Phantom I/O was developed by PhantomLink.com, which specializes in do-it-yourself security solutions and wireless HD security cameras. Visit http://www.phantom-io.com or Google Play (Android Market) for more information.