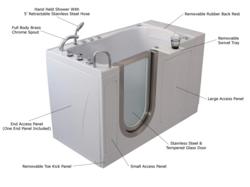 This Valentines Sales Event on walk bathtubs and ADA showers offers shoppers huge savings on major brands.
New York, NY (PRWEB) February 14, 2013
Aging Safely announces a Valentines Day Sales Event on for their eCommerce shopping cart site that specializes in ADA shower systems, bathroom fall prevention and bathtubs for senior citizens. This special sales event features elderly bathtubs designed for couples and offers shoppers additional incentives for purchasing walk bathtubs designed for two.
In addition Aging Safely will be offering customer's mail in rebates on products purchased during this limited time sale for additional savings up to $250.00 off. The company will be randomly publishing discount codes online that can be applied towards walk bathtubs savings, no charge upgrades of hydrotherapy and other accessory items.
Walk bathtubs are a popular choice for seniors considering options on aging in place and bathroom safety products. Assisted living and long term elderly care can have tremendous costs associated with them; likewise most people prefer the comfort of their own home versus the uninviting, institutional feel of many care facilities.
Possessing a sense of independence is important and walk bathtubs can help provide the confidence it takes to bathe without fear of falling. Aging in place technology has advanced a long way over the years. This unique elderly bathtubs gateway provides seniors several options for the top brands on the market at discounted prices. In addition this eCommerce resource provides researchers with a plethora of useful information and specifications on walk in tubs.
This sales event will also include special promotions on hydrotherapy options; whereas visitors will have the opportunity at upgrades that may include whirlpool water jetted systems as well as warm air hydrotherapy systems. The elderly and those with medical conditions, dependant upon doctor orders may prefer the gentleness of the air therapy system; as it can also be more hygienic that traditional water spas. Most air therapy models come standard with dampened jets which disperse the air bubbles making the impact on skin less aggressive. Although according to Aging Safely, most walk bathtubs that come with jets also have the option to adjust levels of desired massage pressure.
The company will also be offering accessory upgrades for package shower purchases on all ADA compliant shower systems. Aging Safely realizes that sometimes walk bathtubs aren't the right solution for every situation; therefore they offer ADA shower stall systems that come with built in seats, grab bars and thermal mixing devices designed to help regulate the temperature of the shower water. Customer care representatives are available to help visitors select the proper elderly bathtubs appliance.
Tye Wennstedt
720-495-5497
info(at)walkbathtubs(dot)com