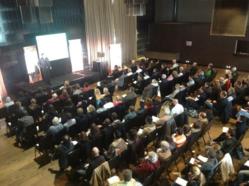 These strategies have the potential to transform the way you think and invest for the rest of your life. All it takes is willingness to see things and do things differently
Brisbane, Australia (PRWEB) February 15, 2013
Recent news show increasing median values in Brisbane's property market with an increase of 2 per cent, which is second to Hobart's 4.5 per cent increase. This results to an increase in buyers and investors coming in to the city.
These are the times when investors and property buyers would need alternative strategies to purchase real estate. And this is why, property innovator, Rick Otton, is heading over to Brisbane this February 17th for his one-day real estate training seminar.
"There are alternative and creative strategies that we can use to buy and sell houses without spending our own money or waiting to save up the required amount of deposit. And these are what I'll be sharing with you in my one-day training seminars," Otton said.
The Right Investment Tools
Having spent more than 30 years in the real estate industry, Otton has continually developed and improved his creative property investment strategies to be able to eliminate banks and loans in every investment. "It's like having a big bag of tools where you'll choose that one tool you can use to fix a specific problem," Otton explained.
"You may desire an income stream from property or to make positive cash flow without purchasing investment properties or build long-term wealth. These strategies have the potential to transform the way you think and invest for the rest of your life. All it takes is willingness to see things and do things differently," added Mr. Otton.
Lots of individuals have benefitted from Otton's tools and strategies. "I've been around real estate for a fair while as a developer. Rick has taught me a lot more about negotiating and how to fix problems. Now I'm able to go out and fix other people's problems, which has also created a great income for myself," said G. Thomas, a former Developer and one of Otton's many students.
Mr. Otton is continuously teaching his strategies throughout the world via real estate conferences, one-day training seminars, and through his real estate book. "Our purpose has grown from creating time and financial freedom for ourselves to being able to help as many people as we can to see things differently and create their own freedom," said Otton.
"Not long after I started, people were asking my wife and me how we did what we were doing. There are no such things as secrets of property millionaires, and there is more than enough opportunity for everybody," Otton added.
Otton's strategies are the new way forward in real estate investing. If you've been searching for a proven way to build your property portfolio and create real estate wealth, come join Rick Otton in his free one-day training event in Brisbane on February 17. Get more details at HowToBuyAHouseForADollar.com
About Rick Otton
Rick Otton has spent decades making money by snapping up inexpensive real estate and putting it to work building wealth. Now, he's teaching other Aussies how to do the same.
Otton is the founder and CEO of We Buy Houses, which operates in the U.S., U.K., Australia and New Zealand putting his strategies to work every day.
Otton got his start in alternative real estate investment in 1991 and within a year acquired 76 properties. In years after, Otton made a fortune using his low-risk, high-reward strategies to inexpensively acquire real estate.
Now, Otton wants to share the wealth by sharing the wisdom, teaching Aussies how to buy and sell real estate without cutting banks and other middlemen in on the deal.
Otton has been featured in a variety of television programs and magazines, including Today Tonight, A Current Affair, Australian Property Investor and more.
You can learn more about Otton and how to invest in residential real estate without using banks at http://www.rickotton.com.
Details of Mr Otton's free one day training events can be found at HowToBuyAHouseForADollar.com/register