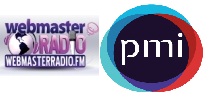 Fort Lauderdale, FL (PRWEB) February 14, 2013
Fort Lauderdale, FL (PRWEB) March 14th , 2013 -- WebmasterRadio.FM, the world's largest B2B radio and podcast network, and the official radio network of the Performance Marketing Insights (PMI) conference series, announces pre-show, on-location and post-show exclusive coverage from the PMI conference being held March 12-13 in New York City.
"WebmasterRadio.FM's live streaming coverage keeps tabs on the pulse of the event for attendees and those who can't make it to New York City," said WebmasterRadio.FM co-founder and Vice President of Marketing Brandy Shapiro-Babin."Our roving reporters will be scouring the event floor obtaining luminary interviews keeping you up to date in the latest trends and techniques in the performance marketing space."
"To be able to share insights and bring together Global experts within Performance Marketing on WebmasterRadio.FM will be a fantastic journey, and one I'm looking forward to immensely!" said Mathew Wood, Founder and Investor of A4u, organizer and parent to the Performance Marketing Insights conference.
"We aim to link in thought leaders, and speakers who will be in attending our inaugural US show in New York this March 12-13, and bring together forces for change in the industry we love"
WebmasterRadio.FM is the official radio network of the PMI conference series, the largest and most important conference dedicated to the performance marketing industries. All WebmasterRadio.FM programs are available in podcast format through all major podcast portals, and in archived format on-demand inside our Performance Marketing Insights Channel.
WebmasterRadio.FM's exclusive coverage will include The Performance Marketing Insights Podcast- Featuring Pre-Show Coverage of the upcoming PMI Conference in New York City- New Pre-Show Episodes will air on consecutive Thursdays (February 14th, 21st and March 7th) followed by a post-show episode on March 21st. All episodes will air on WebmasterRadio.FM at 3pm Eastern on the mentioned dates. These archived podcasts will available for same-day download across all of our various podcast portals.They will also feature roving reporting coverage on-location with speakers, sponsors, exhibitors and various industry luminaries from the tradeshow floor.
About WebmasterRadio.FM:
WebmasterRadio.FM lifts the "veiled curtain" of the Internet, bringing the business community together through an interactive radio network. Its listeners are a global group, comprised of everyone from corporate executives and decision makers to small and mid-sized businesses and individual entrepreneurs. WebmasterRadio.FM's stellar line-up of radio programming includes; "Market Edge" with Digital Influence Group CEO Glenn Engler , "Purse Strings" with Carmichael Lynch Spong senior principal Maria Reitan and the "CyberLaw and Business Report with Internet Law Center Founder Bennet Kelley. To tune into WebmasterRadio.FM's live content or check out the show lineup, please visit http://www.WebmasterRadio.FM.
Media Contact: Brandy Shapiro-Babin 954-309-5578 brandy(at)wmr(dot)fm
About A4u/ Performance Marketing Insights:
Existem Events is the company behind all A4u brands, including the 70,000 strong Affiliate Marketing online hub A4u, the World's largest Performance Marketing Awards ceremony, and Europe's largest Performance Marketing Conference series, a4uexpo. A4uexpo was founded in 2007 and has since launched successful shows in the UK, Spain, Germany and The Netherlands.
A4u's core mission is to connect Publishers, Agencies, Networks and Advertisers through inspirational, cutting-edge and educational events, content, and platforms.
Media Contact: Victoria Osorio, Indicate Media, 646-396-6091,victoria(at)indicatemedia(dot)com