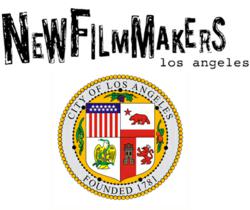 Los Angeles, CA (PRWEB) February 14, 2013
Founded in 2007 as the western counterpart to New York-based NewFilmmakers Series, NewFilmmakers LA Film Festival has built itself over the years as a premier screening event celebrating independent film. Filmmakers, actors, writers, and cinema enthusiasts alike, over 15,000 constituents in the Los Angeles area alone, have found enjoyment through quality programming and lively receptions at the screening events on the notable Sunset Gower Studios lot in Hollywood.
NewFilmmakers LA film fest has screened, and many times premiered, over 500 short, documentary, and feature films over the past several years from 43 countries. Filmmakers include Oscar, Emmy, Golden Globe, and Pulitzer Prize winners, Ivy League and celebrated film school graduates and professors, and fans of film making directorial debuts.
NewFilmmakers LA Film Festival has a history of creating programs that highlight and benefit the city of Los Angeles including On Location: The Los Angeles Video Project. An annual program presented in partnership with the Los Angeles Tourism and Convention Board and LA Weekly, NewFilmmakers LA invites the creative members of Los Angeles to reach out to their community and show in short film form, "What Is Your LA?" Finalists included a high school student and an Emmy-winner, with Gregory Kasunich taking the Grand Prize with his four-minute short film, "Los Angeles: Find Yourself".
The ceremony for NewFilmmakers LA Film Festival will include keynote speeches from Councilmember Krekorian and Larry Laboe, Executive Director of NewFilmmakers LA, at the Tom Bradley Tower atop LA City Hall. A formal presentation at John Ferraro Council Chambers will follow.
Below, NewFilmmakers LA Film Festival celebrates and shines a light on a few filmmakers who've screened over the years, and where they are now.
Film director David Maquiling's directorial debut, the Independent Spirit Award nominee Too Much Sleep, screened at NewFilmmakers LA in May 2009. Maquiling's been featured in Daily Variety's annual "Someone to Watch", became the first Filipino American director elected to the Directors Guild of America, and was awarded the IFP Project Involve Fellowship, along with serving as adjunct faculty member at the USC University of Southern California.
Too Much Sleep has aired on Starz Cable Channel, and returns to rotation in February and March 2013.
Angela Matemotja's directorial debut The Encounter screened in January of 2012. Since then, on the acting front, Matemotja's appeared on The New Normal and How I Met Your Mother, and is currently filming Tyler Perry's upcoming feature Single Moms Club which stars Perry, Amy Smart (Showtime's Shameless), Terry Crews (Are We There Yet?, The Expendables 2), and Wendi McLendon-Covey (Bridesmaids, Reno 911!).
Brianna Brown, producer and lead actress of The Encounter, has since filmed Marc Cherry's pilot Devious Maids, which was picked up by Lifetime for 13 episodes. She's portrayed Lisa Niles for two years on General Hospital, and produced and starred in the short film, Retail Therapy, with Angela Matemotja. Brown won a Best Actress Award at the Long Island International Film Expo for The Encounter.
Reminiscent of the Apatow crew, emerging producing/acting team Todd Berger, Jeff Grace, Blaise Miller, Doug Manley and Kevin M. Brennan, are making waves in Hollywood. Todd Berger's feature film directorial debut, The Scenesters, screened at NewFilmmakers LA film fest in 2009. Produced by Jeff Grace and starring Berger, Miller, Brennan, and Doug Manley, the film won the Rosebud Award at Slamdance for Most Interesting Film, and the Hollywood Discovery Award for Best Comedy at the Hollywood Film Festival, among other awards. Modern Imbecile's Planet World, directed by Manley, produced by Berger, and starring both, screened at both the Austin Film Festival and Slamdance Film Festival, and premiered in LA at a NewFilmmakers LA Film Festival screening in 2011.
Their latest film, It's A Disaster, has been picked up by Oscilloscope Laboratories, started by the late Adam Yauch of the Beastie Boys, and will be released theatrically April 12th. Directed by Todd Berger, he also stars along with Kevin Brennan, Blaise Miller, Jeff Grace, Julia Stiles (Silver Linings Playbook), America Ferrera (Ugly Betty), Rachel Boston ((500) Days of Summer), and David Cross (Arrested Development, Kill Your Darlings). It's a Disaster picked up several awards including the Jury Prize for Best Screenplay at the Bend Film Festival, Grand Jury Prize Audience Choice for Best Feature at Edmonton International Film Festival, and the Audience Award for Best Feature at the New Orleans Film Festival.
Jeff Grace, Blaise Miller, and Kevin Brennan next appear in Super Zeroes, directed by Potsy Ponciroli, which screens at NewFilmmakers LA Film Festival on February 16th 2013.
For more information or to purchase tickets for the next NewFilmmakers LA screening, please visit http://www.newfilmmakersla.com. Submissions are also currently being accepted for consideration of future screenings.