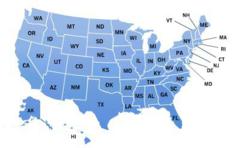 (PRWEB) February 14, 2013
Other expensive states are Oklahoma and Michigan. Maine and Iowa are the best places to live to save money on car insurance. Insurance premiums are affected by many factors, some of these are:
Large number of uninsured drivers.
Insurance state laws.
Competition among insurance companies.
Severe weather conditions.
"Insurance policy premiums change every month; if you have not compared rates from multiple providers in your area recently, it could be a good time to see how much you could save," says a BetterInsuranceChoice.com representative. To get free insurance quote, click here.
Most expensive states with average premiums:
Louisiana: $2,536
Oklahoma: $2,047
Michigan: $2,013
West Virginia: $2,002
Washington, D.C.: $1,866
Montana: $1,856
Rhode Island: $1,830
Wyoming: $1,732
California: $1,709
Georgia: $1,694
Least expensive states with average premiums:
Illinois: $1,192
Arizona: $1,176
New Hampshire: $1,133
South Carolina: $1,108
Ohio: $1,099
Vermont: $1,063
North Carolina: $1,022
Idaho: $1,011
Wisconsin: $987
Iowa: $985
Maine: $889
BetterInsuranceChoice.com is an independent insurance comparison website for auto, life, health and home insurance carriers. Users can either choose to work with national brands directly or let the website match users to the right provider based on the needs. Click here to visit the website.