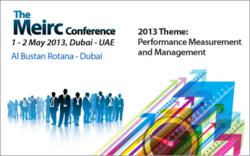 Building a Culture of Achievement
Dubai, United Arab Emirates. (PRWEB) February 18, 2013
On May 1 and 2, 2013 Meirc Training and Consulting will be holding a conference that will take an in-depth look into the various problems and challenges faced during formulating policies and strategies aimed at performance measurement and management.
Performance measurement and management play a critical role in today's volatile and uncertain business environment. Moreover, both are key to building talent and competence (especially) in the Gulf region where organizations are presently embarking on a major drive of nationalization and human resource development. As such, organizations must strive to rapidly develop and implement strategies to meet the various complex challenges they face, in this regards. Using a variety of management methods, including building and promoting a culture of achievement, organizations will have to smoothly integrate their strategy formulation with day-to-day operations to allow them maintain sustainable results and close the gap between strategy formulation and execution.
According to Mr. Fuad Awad, Partner at Meirc Training & Consulting, "The Meirc Conference will address those challenges through a combination of focused presentations and interactive workshops delivered and moderated by high profile corporate leaders. The conference will strive to achieve the following:

Highlight successful performance practices in the GCC and the Middle East region.
Provide insight on how organizations can build and develop high performance cultures in practical and systematic ways."
"For 55 years, our professional development programs and conferences have attracted hundreds of thousands participants from around 1,800 organizations spanning across 25 countries. Eventually, we have has established Meirc as a leader in the fields of organization and human resources consulting. Our experienced professionals have successfully completed consulting assignments and research studies in these fields for most of the major organizations in the region" was the comment made by Samer K. Taher, Managing Director of Meirc Training & Consulting.