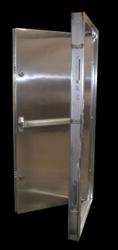 Latham's decision to offer fully designed and built custom steel doors for any premises and any purpose is really going to have a pronounced effect on the industry around them
Stourbridge, England (PRWEB) February 14, 2013
Brand Outreach the brand management specialists recently announced a media link up with Latham's Steel Doors who are the UK's largest supplier of stock steel doors. Latham's have recently branched out into offering full bespoke, made to order door models to any size, specification and certification on behalf of clients all over the nation.
Joe Bragg, spokesperson for Brand Outreach, described the implications of the announcement:
"Those with older or non-uniform premises may find that stock door sizes will not suit their needs. Before, this often meant expensive or less secure doors had to be fitted, increasing the risk of both malfunction and criminal incursion. Latham's decision to offer fully designed and built custom steel doors for any premises and any purpose is really going to have a pronounced effect on the industry around them."
The company already use computer aided design and construction techniques to create CAD drawings, technical drawings and full specifications for all of their certified steel doors, so the technology to enable them to make the move into bespoke production is already available and familiar. The orders they receive include fire proof fire exit doors, sound proof studio doors and reinforced security doors, to name but a few.
A spokesperson for Latham's explained, "We're working with Brand Outreach to make sure that customers new and old understand that what first may have held them back is now no longer a barrier to the production and installation of a high quality security or fire door. We can now create any item for any space, manufactured within the UK by our amazing engineers at an affordable price. The skill and expertise they have ensures that all our custom designs maximise client satisfaction with the minimum of fuss. We're already seeing orders being placed before we've even made the announcement, so the future of Latham's is bright."
About Latham's Steel Doors: Latham's Steel Doors are the UK's leading supplier of stock high security steel door sets. With 1000's of steel doors in stock, they can keep up with the high demand of large quantity orders or single quantity orders, ready for immediate delivery or collection from their distribution centre. For more information, please visit: http://www.ajsteeldoors.co.uk/
About Brand Outreach: Brand Outreach is a brand management business that boasts clients across the globe. Brand Outreach specialize in promoting and defending online reputations. They use traditional media channels as well as Social Media to grow brands and interact with customers target markets.