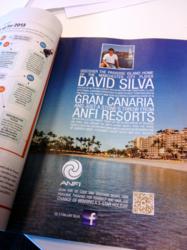 Silva's image as an ambassador for Anfi will be a promotional boost to the brand" said Group CEO, José Luis Trujillo adding that "The marketing campaign seeks to promote Anfi as a unique destination where the customer is our primary motivation."
(PRWEB UK) 14 February 2013
Appointed by luxury vacation membership company Anfi in Gran Canaria, Spain, Media Agency Group is launching a heavyweight, multi-format advertising campaign in the six European cities of Manchester, Glasgow, London, Rome, Berlin and Amsterdam, starring David Silva to promote tourism to Anfi del Mar.
Using a range of advertising formats, consumers will see the Anfi brand featuring on full page adverts in EasyJet's inflight 'Traveller' magazine, a digital banner in Manchester Piccadilly rail station, bus advertising in Manchester, and taxi full livery and supersides advertising in all six cities. To accompany their advertising an online PR campaign will target all cities, including Anfi's social media channels. Occupying the first half of 2013, the advertising campaign is strategically timed to target prospective holidaymakers.
The campaign showcases a sun-drenched beach and Brand Ambassador Manchester City Football Club's Spanish midfielder David Silva endorsing the Spanish island. A website address and a QR code allow potential holiday makers to explore further information via digital access.
The advertising campaign coincides with the company's 25th Anniversary, founded by Norwegian entrepreneur Björn Lyng in 1988. Lying within the North Atlantic Ocean, just west of Morocco, the island of Grand Canaria is an ideal paradisal location for leisure and relaxation.
By assigning Media Agency Group as overseers of this powerful campaign, Anfi is able to receive specialist service across a plethora of advertising platforms, allowing them to opt for combined methods in the creation of a durable marketing strategy.
The use of press advertising in conjunction with outdoor advertising formats, mixed with online PR communication enables Anfi to delve further into a precise audience area, with direct and high-frequency access to the public domain, online, in the air and at street level.
"Silva's image as an ambassador for Anfi will be a promotional boost to the brand" said Group CEO, José Luis Trujillo adding that "The marketing campaign seeks to promote Anfi as a unique destination where the customer is our primary motivation."
For his part, David Silva said he is very happy to support the promotion of Anfi, "which is essential for this land and which will continue to generate employment and development in Gran Canaria".