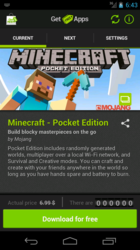 Get incredible Android paid apps for free
Madrid, Spain (PRWEB) February 15, 2013
OnaDevice has announced today that Get Free Apps ®, the Spanish application that has been most eagerly-anticipated by users of Android devices is now available.
From today onwards, all the users of Android devices will be able to enjoy a service that didn't exist for them before: a legal system to download paid apps for free.
Get Free Apps ® is constantly making agreements with the most famous paid applications, so that the user can download them for 0$, or else with a big discount. This is just for a limited time and can only be done through Get Free Apps ®.
You already can get it on the Google Play Store and download "Ruzzle" and the following days you will have "Where's my water?" and "AccuWeather Platinum".
The Get Free Apps ® application is designed with a modern interface, very simple and easy to use. With just one click, the user can download a paid application to their device. This will be absolutely free of any cost, thanks to its integration with Google Play Store and PayPal.
The user only has to have an account with Google Play Store and an email to be able to obtain the downloaded application, so that Get Free Apps ® can pay the full cost of the download. With this simple method, the user receives the payment they have made to Google Play Store through a PayPal account and they have the application for no cost whatsoever.
It consists of a very light app which works on any Android 2.2 or higher device, therefore covering more than 95% of all smartphone and tablet users with this operating system. It also has a notification scheme, so that a user never misses any offers and there are various options to share achievements through the social networks. The communications with the servers at Get Free Apps ® are encrypted, so that data can travel safely.
More info:
OnaDevice's press dpt:
Tel. (+34) 670 0105 51
Press contact:
comunicacion(at)getfreeapps(dot)net
Marketing and commercial contact:
fernando(dot)moreu(at)getfreeapps(dot)net