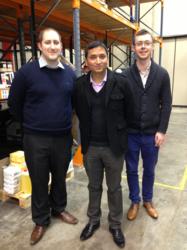 Having outgrown our existing Birmingham city centre premises following a record first year, the new WAE+ warehouse will enable us to hold more core products in stock and ensure quicker delivery to our customers.
(PRWEB UK) 15 February 2013
Following its move to a new distribution centre in Birmingham with offices for customer service teams and a 15,000 sq ft on-site warehouse, WAE+ has announced plans to increase its workforce by 50 per cent over the next two years.
Having outgrown its existing Birmingham city centre premises following a record first year with turnover in excess of £1.5 million, the new warehouse will enable WAE+ to hold more core products in stock and ensure quicker delivery to customers.
The 15,000 sq ft warehouse also increases the online retailer's storage space by 100 per cent. WAE+ has already relocated its dispatch team, with the remaining employees due to move to the new premises by early February. As order volumes increase, WAE+ has already employed two additional warehouse staff.
Ben Slater, Operations Director at WAE+, comments: "Our new fulfilment centre is at the heart of all WAE+ e-commerce operations. Having grown from two employees to twenty in our first year to handle increasing order volumes, we decided to locate a large warehouse to meet storage demands. As our growth continues, we predict that our workforce will increase 50 per cent to over 30 people within the next 24 months, including the hire of four further warehouse staff this year alone."
The WAE+ warehouse and office space can accommodate in excess of 100 employees. The online retailer is currently on target to achieve 60% capacity by Christmas 2013, with a high number of its core products available on-site. In addition, automating packaging processes plus forklift truck access within the warehouse will improve dispatch times.
WAE+ recently reported record figures for December 2012 with over 11,000 customer orders and £1.2 million sales, an increase of 6,000 per cent in sales on December 2011. During its first year of business, the online retailer processed over 35,000 completed orders, with 50 per cent placed in Q4, 2012.
Future plans include operating the new warehouse from 8am till 8pm and increasing the online retailer's regional delivery service through the purchase and deployment of WAE+ courier vehicles.
WAE+ caters to a variety of industries, including consumer electronics, office supplies, parts and components, and wholesale food and drink. This is currently the widest range of immediately-available products provided by any online UK retailer.
For more information on WAE+'s selection of discounted products, visit http://www.waeplus.co.uk or call the sales team on 0203 642 8482.

About WAE+
WAE+, one of the fastest growing online retailers, offers 125,000 products including office supplies, consumer electronics, parts and components and wholesale food and drink. The retailer's sourcing strategy and ecommerce platform enable it to sell a large range of discounted products.
Headquartered in Birmingham, WAE+ originally sold office supplies to thousands of businesses across the UK and has since branched out to selling related products to both businesses and consumers.
Since the company's, inception, the team has focused on three key areas: range, value and customer service.
WAE+ offers a lowest price guarantee on its core range and has a growing customer service centre committed to providing an efficient and reliable dispatch service, backed up with efficient and polite customer service.