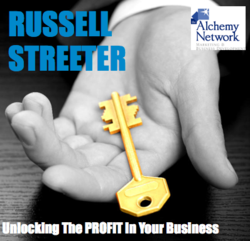 Russell utilises a variety of creative coaching methods to ensure you get maximum benefit from the contact time
Fareham, Hampshire (PRWEB UK) 18 February 2013
Business owners that are seeking a cost effective marketing and business development advice have a new option in Southern Hampshire. Russell Streeter, Partner with the Alchemy Network, has launched monthly Business Growth meetings, with the aim of helping businesses to improve the way they market their products and services to potential customers.
Part workshop, part networking, these meetings are two hours long and attended by up to ten small business owners, from a variety of industries and backgrounds. At each meeting, Russell focuses on one aspect of the sales and marketing process, providing advice on how businesses can improve their performance in this area and encouraging each business owner to suggest solutions that they can implement in their businesses right away.
These Business Growth meetings represent an evolution in the group and individual mentoring services that Russell has provided in the past. Previous attendees to Russell's group mentoring workshops included Robert Briggs, from Crimson Crab Limited.
"Russell is an inspiring business mentor with an aptitude for understanding clients which makes him stand out from other mentors. He utilises a variety of creative coaching methods to ensure you get maximum benefit from the contact time. He draws on topical examples to highlight key points making things come to life."
The learning content of the meetings is based around the Seven Keys, which is the bedrock of Russell's business development services. These meetings are thus an ideal way for entrepreneurs to get some business development advice, without committing large sums to an expensive programme.
To allow business owners to see what these meetings are all about before they invest any of their hard-earned cash, interested persons may attend one meeting for free. Thereafter there are monthly and quarterly payment plans. Meetings are held at the Arena Business Centre in Fareham.
Booking a place at the next meeting couldn't be easier: simply log onto the Event Page to register.