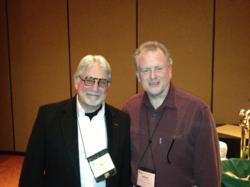 My goal was to communicate what makes us different: sustainable agriculture and pioneers in green practices.
San Francisco, CA (PRWEB) February 14, 2013
Spencer Brewer, direct-to-consumer business and events director for Parducci Wine Cellars, recently spoke at the International Tour Management Institute (ITMI) Symposium and Reunion. His presentation brought to life the unique character of Mendocino County for conference attendees, he then treated them to a variety of Parducci wines which were poured at the event.
The symposium and reunion, which was held in January in Albuquerque, New Mexico, is the premier event in the travel and tourism industry, exclusively devoted to ITMI tour operator partners and ITMI certified tour directors and guides. Founded in San Francisco in 1976, ITMI was the first U.S. school designed specifically to train and certify professional tour directors and guides. Considered the 'gold standard' in the industry, ITMI has certified over 7,000 graduates from around the world, since its inception in 1976.
"Mendocino County is an amazing place," says Brewer, "and my goal was to communicate what makes us different: the focus on sustainable agriculture, the remarkable people who are dedicated to that goal, and our own role at Parducci as the pioneers for both the region and green practices."
"The generous wine sponsorship of Parducci Wine Cellars was a highlight of the ITMI Symposium," said Ted Bravos, CEO of ITMI. "The wines were excellent and the fact that Parducci is a leader in sustainable agriculture and wine production, made this an even more memorable experience for symposium attendees."
The Thornhill family purchased the historic Parducci winery in 2004, and since then has made great strides in revitalizing the winery. Careful stewards of the land, the family believes that great wines begin in healthy vineyards. To that end, every detail is considered in creating a healthy environment for the vines. Wildlife habitat is preserved; domestic animals are used to control weeds and fertilize the vineyards; and a wetlands area reclaims water from the winemaking process, naturally treats it, and provides a nutrient-rich, sustainable source of water for the vineyards.
About ITMI: Since 1976, ITMI has been America's premier training and certification program for tour directors and guides. For more information about ITMI contact Annemarie Osborne at Annemarie(dot)Osborne(at)gmail(dot)com, (949) 872-6354 or call (415) 957-9489 or visit http://www.itmisf.com.
About Parducci Wine Cellars: Mendocino's oldest winery, Parducci Wine Cellars has been making and selling wine since 1932. True to Parducci's "deep roots and legendary wines" slogan, the Thornhill family continues the brand tradition of making quality wines using sustainable wine growing and land use practices. The winery operates with high standards and broad eco‐practices: carbon neutrality, use of 100 percent green power, certified sustainable growing practices, support of local family growers and the Mendocino community, water reduction, reuse and recycling programs and earth-friendly packaging. For more information, contact Paul Wagner at 707.255.7667 or by email pwagner(at)balzac(dot)com, or visit the website at http://www.parducci.com.
###