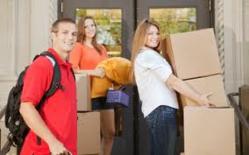 Choose the right moving company. This is the most important aspect having a hassle free moving process.
Sacramento, CA (PRWEB) February 15, 2013
Finding professional movers with a good reputation has always been a challenge for customers. Double-digit employee turnover, relatively fewer barriers to entry, low investment requirements, and other factors render the marketplace of professional movers to be a highly volatile environment where the churn is very high. It is almost impossible to keep up with the changes, especially for customers who solicit the service of professional movers every few years.
Movers.net is one of the first few companies to introduce a system that would help customers research and connect with hundreds of professional movers at the click of a mouse. The concept is very simple. Every time an individual needs to work with a professional mover, she submits an online application detailing her requirements. Within seconds, professional movers will respond with free moving quotes customized exclusively for that individual. Movers.net has been offering this free service to customers for over ten years.
To adapt to the rapidly changing marketplace, Movers.net issued the following press statement this morning:
"We have revamped our internal portfolio of movers to ensure customers receive expedited service, a reliable network of professional movers, and significant cost savings. This initiative was started last year and we are pleased to announce that we have successfully completed the process of auditing and re-allocating our professional movers. This new portfolio ensures that customers work with only the best professional movers in our industry. We have also incorporated a zero tolerance policy, so if a professional mover receives either a complaint or a negative review, we terminate that company from our network immediately. This step was necessary for the safety of our customers. Furthermore, we have increased the size of our internal support team so individual customers can easily get responses to their questions or even report issues. We are confident that our internal changes will position us as the leader in the professional moving company marketplace."
According to Randy Rodriguez, management officer of Movers.net, these changes are expected to result in "double digit cost savings for customers and over ninety five percent customer satisfaction."
Jill, who recently moved to Michigan, described her experience with Movers.net as being outstanding. "I was very concerned about choosing the right moving company. I have worked so hard to purchase custom-designed furniture, the very thought of entrusting it to a stranger sounded difficult. Thankfully, Movers.net provided me with unbiased opinions and helped me choose a professional mover who was only too eager to cater to my needs. The cost was low and the service was excellent. Since the mover wanted to retain its ranking with Movers.net, it was only too eager to give me the best possible service. I also felt safe knowing that I could file a complaint if I was not happy."
Movers.net offers a free service for customers interested in receiving free professional moving quotes. Customers complete a simple, thirty second application detailing their needs and within just a few minutes the company's internal system matches the application with its directory of professional movers. Free moving quotes are delivered to customers via e-mail.