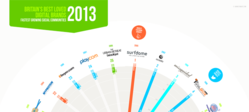 London (PRWEB UK) 15 February 2013
Today on Valentine's Day Tamar is launching their 3rd annual edition of BrandLove25. Their ongoing project to measure the 'love' shown in their social media communities for Britain's leading digital brands.
In 2013 the analysis looks specifically at year-on-year social community growth. In this harsh economic climate we reasoned that those brands who had grown their social communities dramatically since 2012 must be doing something right, and we wanted to find out who they were.
Topping the table this year is surfer/skater lifestyle brand Surfdome who racked up an astonishing overall growth of 513% in its social communities and who also topped the table in overall growth from Facebook. I asked Head of eCommerce Jon Lane what he feels Surfdome is doing right which has led to this resounding endorsement from its customers. He told me; "our social strategy has been to project a voice that is true to our brand's personality; 'to dive in and live life'. We focus on keeping it social, 'in the moment', and tailor our messages to each audience across the various platforms, we leverage the relationships with our stocked brands and use competitions selectively".
Another brand following in the footsteps of Surfdome and showing dramatic social growth year on year is fashion retailer Missguided. Like Surfdome, Missguided has shown some inspired engagement with their core 16-30 female audience and in developing initiatives such as 'shop by celebrity style' which have set itself aside from market-dominant fashion retailer ASOS, with the result that it is now growing significantly faster than ASOS in the social space.
These two clothing retailers apart however, it is the health and beauty industry who has dominated BrandLove25 this year. That sector has overtaken fashion retail to take the number one spot for overall sector growth. New entries from health and beauty brands include gorgeous shop, get lenses and ukhairdressers. This sector is one to watch in the digital retail space.
Interestingly, and somewhat unexpectedly, the fastest platform across all of the BrandLove25 brands was YouTube. Communities here grew by an average of 213% YOY, beating the average Facebook community growth of 146%. It's also been interesting to see how the adoption of the newer nets has accelerated. Last year only 10 of the BrandLove25 had Pinterest channels, this year that number has more than doubled to 21. Similarly, Instagram was used by only 2 of the BrandLove25 last year, this year 10 brands are actively using it – and Net-a-Porter has notched up an impressive community of 240,000 Instagram followers, up nearly 500% on last year.
With an average age of 10 years since they were founded, none of the BrandLove25 digital brands can be considered the new kids on the block in retail anymore. The impressive growth in their social media communities, during Britain's most severe economic recession this century, is a strong indicator that this country's consumers are showing their love very clearly for our leading digital brands.