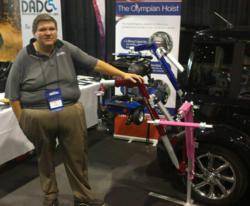 The race is now on for Autochair Dealerships to take the product to market
Lillington, North Carolina (PRWEB UK) 16 February 2013
The North Carolina mobility specialist launched the new wheelchair lift range last week at the influential NMEDA Conference at the Hilton Daytona Beach Hotel in Florida to its nation-wide Dealer Network. Attending the four day conference, Matt Walker, MD of Autochair LLC was on the stand to launch the new models accompanied by USA Sales Manager, Tom Cole.
The NMEDA conference is the centrepiece for National Mobility Equipment Dealer Association in the USA, bringing together members and over 60 exhibitors from North America and beyond, with mobility industry supporters.
Along with a touch of Florida sunshine, this influential event provided a perfect platform to showcase the highly accredited Autochair Olympian Wheelchair AutoLifts to a wider audience coinciding with Autochair celebrating its 30th Year in business. Autochair is a worldwide leader of vehicle adaptations and has grown through its continued development and launch of new products that capture the spirit and imagination of handicap users.
The Olympian AutoLift is a premier auto adaptation product that provides those with reduced mobility, quick, effortless loading of a scooter, power-chair or electric wheelchair into their own vehicle. The Olympian AutoLift is available as 260lbs and 440lbs lifting capacity. The 440lbs Olympian AutoLift is reputed to be the highest lifting capacity wheelchair lift of its kind in the world!
Olympian AutoLifts are designed and fitted to suit customer's exact requirements and can be used specifically to lift larger, wider and longer scooters, wheelchairs and power-chairs. The Olympian AutoLifts are extremely versatile, easy to use and can be infinitely adjusted to suit a wide range of different auto makes and models. Made from lightweight aluminium, they offer a sleek and elegant design whilst providing strength and agility to lift almost any make or model of scooter, power-chair or wheelchair into the tightest of trunk spaces.
As pioneers in new product development, Autochair LLC regularly assist handicap people and their families to lead a more fulfilling and rewarding life, endeavoring to empower customers to make an informed decision about which products will best suit their requirements. This ethic and their product innovation and creativity in the mobility market has led the North Carolina based vehicle adaptation company to be recognised as a distinguished distributor and installer in the mobility marketplace.
Commenting on Autochair's attendance at NMEDA, Matt Walker, MD of Autochair LLC says, "Since we opened our US operation we have continued to build the Autochair brand with great success. We have been delighted that our credibility and product innovation as a market leader has facilitated our expansion. The race is now on for our dealerships to bring our extended product range to market and Daytona has been the ideal place to get that underway. The reception of our new Olympian AutoLift at the NMEDA conference has been fantastic and I am in no doubt that it will become a serious contender in the US market when end users demand an Olympian AutoLift as their preferred wheelchair lifting solution. USA Dealerships, health professionals and the general public have all expressed interest in the new product launch and we will be spending the next few months dealing with those orders and enquiries – a great sign of things to come."
About Autochair
Product development and innovation have always been key for the North Carolina firm which has grown steadily in recent years. Employee numbers at the company have increased and more of these are focused on product and service innovation and delivery.
Following an accident in 1975 which left company founder David Walker in a wheelchair, the first 'Autochair' was born in 1979. In 2005, David relinquished his role as MD for his son, Matthew Walker to take over but David still remains at the heart of the company's success.
For more information on the Autochair product range call toll free on 1 (855) 288-6242 or email sales(at)autochair(dot)com or view http://www.autochair.com.
Autochair also have a Dealer Portal available for trade customers to use http://www.autochaironline.com.