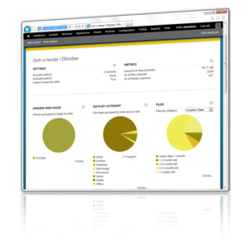 Stockholm, SE (PRWEB) February 18, 2013
Understanding ones storage situation used to be complex and hard. To get an in-depth, detailed analysis of an organizations' storage utilization, one was forced to install big & clumsy software packages. And even configure and maintain big databases. Not to mention the hefty license and maintenance costs. With WhatDatas' new web-based online storage management tool that's now a thing of the past.
WhatData.com introduces a new access model and a new pricing model for storage management tools. With a cloud- and web-based access model, and a low pay-per-use pricing plan, WhatData radically changes the way Storage Management products are priced. With reporting of up to 1TB of data being free, then a price between $49 and $199 per use for larger data reports.
WhatData provides storage administrators with next-generation, web-based interactive Storage Analytics that delivers immediate insight into their storage environment. It's unique in that it not only lets them report on users, files and file types, but also gives a fresh insights into where the actual problem areas lie. By applying Analytics to its findings, bottlenecks are highlighted for the user to concentrate their management efforts where they will pay off the most. WhatData Storage Analytics reports on Windows file-servers, NetApp filers, EMC filers, Dell Storage, HP Storage and others.