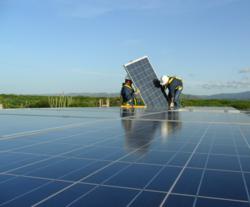 In late 2012, Japan had 7,000MW in installed solar power
(PRWEB) February 15, 2013
PROINSO, a global leader in the supply of PV solar products, has set up a new branch in Tokyo to begin operating in the Japanese solar PV market. Japan's solar PV market has a huge growth potential, because the country is turning to renewable energy.
Following the opening of the new branch, PROINSO will be one of the exhibitors at the PV Expo 2013 (Stand E45-24), to be held in Tokyo from 27 February to 1 March. The company's aim is to meet and reach business agreements with customers and installers, in a trade show that is expected to attract as many as 125,000 visitors from 65 countries and 1,890 exhibitors from home and abroad.
The new branch in Japan is in line with PROINSO's strategy to focus on new international markets, since the international business currently accounts for 88% of the company's total sales. In the wake of the Fukushima nuclear disaster, Japan implemented feed-in tariffs to promote renewable energy, expecting resulting drops in demand for nuclear power.
Besides, Japan is in the top-five ranking for countries with the largest PV solar capacity – 7,000MW installed as of late 2012. The market is expected to grow considerably over the next years, in a country where 800,000 new homes are built on an annual basis and where solar PV installations are 80% residential and 20% non-residential.
In the 2013-2016 period, Japan is expected to install about 13,000MW, thus reaching a total 20,000MW in 2016, while China, the uncontested leader in Asia-Pacific, is estimated to reach 21,100MW of installed capacity by the same year.
PROINSO's new branch in Japan adds to the network the company has in Greece, Italy, US, UK, Spain, Canada, China, Australia, India and Thailand.
Having delivered over 1,100MW in PV solar products, PROINSO has an International Network of Qualified Installers comprising 2,295 members around the world.
PROINSO JAPAN
Level 28, Shinagawa Intercity Tower A
2-15-1 Konan Minato-Ku
Tokyo 108-6028
JAPAN
Phone number: +81 (0) 3-6717-2743
Email: japan (at) proinso (dot) net