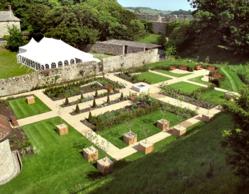 Delighted to supply teak planters to the English Heritage especially when we know they will be enjoyed by so many visitors.
Isle of Wight, Basingstoke, United Kingdom (PRWEB UK) 16 February 2013
A collection of ten 85cm teak planters supplied by a leading supplier of outdoor garden furniture, Chic Teak, that were installed in the Princess Beatrice garden at Carisbrooke Castle on the Isle of Wight in 2009 at the start of the attractions overhaul continue to look magnificent now that the work is finally complete.
The decorative but robust teak planters take up pride of position within the pretty Edwardian-style garden that was designed by the award winning U.K. gardener Chris Beardshaw, who is perhaps best known for his work on the BBC's long-running television series, Gardeners' World.
The charming garden which was once the private retreat of Queen Victoria's daughter was given a complete overhaul in 2009 as part of a series of improvements and renovations done to the popular tourist attraction to attract a wider range of visitor.
The garden is a collaboration between the English Heritage, who maintain Carisbrooke Castle on behalf of the nation and garden designer Chris Beardshaw. The garden is considered to be the crowning glory of the castles improvements which also included a family interactive display, imaginative presentations, a virtual tour and a new building that houses the admission point and shop.
The design of the garden, which generally follows a geometric pattern, incorporates many elements from gardens that were fashionable from the Edwardian period such as herbaceous plants, small fruit trees, water features and even the large teak planters.
Originally teak planters were used in garden to hold plants, shrubs and small trees that struggled to survive the U.K. harsh winter weather and were moved into a green or hot house until they could be moved back into the garden in the spring. Nowadays of course the teak planter with their distinctive finials have a wider use and are used primarily for decorative purposes.
Chic Teak Managing Partner, Robert Bowden, commented: "We are always delighted to supply teak garden furniture including garden benches and planters to the English Heritage especially when we know it will be enjoyed by so many visitors. Our teak planters are designed to last and the installation at the Castle is a testament to their durability and high quality. "
For more information on Chic Teak and their bespoke tree benches, visit their website at http://www.chic-teak.co.uk/ or telephone 0845 390 5000.
About Chic Teak
Successfully trading in ethically-sourced, sustainable teak from Government controlled plantations for over 14 years, Chic Teak creates high quality wooden garden furniture and teak garden furniture sets. They pride themselves on their quality, personal service alongside highly competitive pricing and fast delivery.