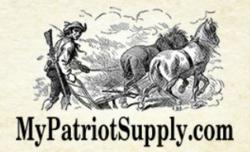 (PRWEB) February 18, 2013
MyPatriotSupply.com, the leading online provider of emergency preparedness and survival products, is proud to be named the Official Preparedness Sponsor of TheBlaze, the online news and information site created by Glenn Beck. Founded on the principal that true freedom is tied to self-reliance, My Patriot Supply encourages a culture of independence and personal responsibility, making this new sponsorship an excellent match for The Blaze readers and Glenn's expanding audience. My Patriot Supply is pleased to support a site which espouses the fundamental principles of freedom which are also the core sensibilities of the survivalist lifestyle.
At My Patriot Supply, customers who believe in the importance of preparedness can find all the supplies they need without being annoyed by fear-mongering or price gouging. The variety, quality and genuine usefulness of the products featured at My Patriot Supply make it easy for beginner and expert survivalists alike to find exactly what they need. Novices interested in learning about preparedness can find instructional materials and all the basics they need to get started. Advanced survivalists will find the site's vast selection of survival supplies vital to maintaining their self-reliant lifestyle.
About the My Patriot Supply
MyPatriotSupply.com was founded in 2008 by people with a passion for self-reliant living. The company founders understand the concerns and desires of their customers and provide high quality survival products with sincere customer service at affordable prices.
A core principal of the survivalist movement is being prepared before disaster strikes. The growing season is quickly approaching and many survivalists will want to have a survival garden in place to provide plentiful healthy food in the months to come. A successful garden requires in-depth planning and preparation well before the growing season begins, which is why My Patriot Supply provides heirloom seeds and other gardening supplies year-round. Allowing survivalists to start planning their gardens now.
This wide variety of gardening supplies has become a favorite of the survivalist community and will also appeal to followers of TheBlaze who are intent on becoming self-sustaining in the coming year.