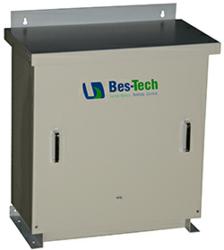 "The reduction in energy consumption translates directly to a lower bill," said Lenagh, "as does reduced demand."
Omaha, Nebraska (PRWEB) February 15, 2013
Bes-Tech, Inc. an energy efficiency technology company headquartered in Omaha, Nebraska, is proud to announce the official product launch of the Digi-RTU. Bes-Tech worked in cooperation with Omaha Public Power District (OPPD) to prove our Digi-RTU technology. The Digi-RTU is an aftermarket control package designed to assist rooftop units run more efficiently. Since rooftop air conditions are found everywhere and use the largest percentage of heating and cooling costs for commercial and industrial buildings, an interest in making these units run more efficiently is of significant interest to building owners and managers. It was to address this concern that OPPD agreed to pilot Bes-Tech's Digi-RTU technologies and validate Bes-Tech's claims about the Digi-RTU which are substantial and include:

Reduce compressor on/off cycling up to 75%
Reduce the electricity consumption up to 50%
Reduce the electricity demand up to 50%
Improve equipment life span
Reduce equipment noise
Improve temperature and humidity control
CO2 based demand control
The Digi-RTU makes conventional roof top units outperform geo-thermal heat pumps at a fraction of the cost for the geo-thermal system. Digi-RTU is not only a green product – it is a greener product that can turn the majority of buildings in the nation into green buildings.
Based on the Pacific Northwest National Laboratory (PNNL) four areas of advanced controls for rooftop units, the Digi-RTU is the only product on the market that addresses each area to maximize electricity consumption and demand reduction. The Digi-RTU integrates with the existing economizer, modulates the supply fan, modulates the compressor speed, and regulates the indoor air CO2 level. By intercepting heating and cooling calls, the Digi-RTU's patented technology manages the compressor and fan speeds to match the space requirements. As a result space temperature and humidity are best managed.1
"We wanted to find a technology that would ensure the more efficient operation of these units," said Bill Lenagh, OPPD's Division Manager for Customer Sales and Service. The Digi-RTU Optimizer benefits OPPD's customers in several ways. "The reduction in energy consumption translates directly to a lower bill," said Lenagh, "as does reduced demand."2
Based on the results of the pilot, OPPD recommended the Digi-RTU technology to the American Public Power Association which awarded Bes-Tech their Dem-onstration of Energy-Efficient Developments (DEED) Energy Innovator Award in 2011.
About Bes-Tech
Bes-Tech has been a leader in energy efficient building systems technologies for the past nine years. The company was founded on proven scientific engineering processes and technologies that reduce peak energy demand, minimize energy usage, and maximize energy efficiency. We actively work to lower the carbon footprint of the built environment.
About OPPD
OPPD is a customer-owned utility serving over 352,000 customers in all or parts of 13 counties in east and southeast Nebraska.
Sources
1Department of Energy's Pacific Northwest National Laboratory
http://www.pnnl.gov/main/publications/external/technical_reports/PNNL-20955.pdf
2http://www.publicpower.org/Media/magazine/ArticleDetail.cfm?ItemNumber=31165