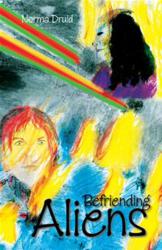 Movie and TV science fiction present an impossibly simple universe.
Nashville, Tenn. (PRWEB) February 16, 2013
In the time of Hansa Year 530, a great cloud of smoke lingers over the remote colony of Dev Boylun. This once uninhabited planet has recently been home to an experimental gathering of humans and their alien neighbors, the Varangians. However, now, it is only a site of destruction. The sole survivors are a child named Licinio, and three babies. What went wrong?
Befriending Aliens, by Norma Druid, follows young Licinio in his adventurous life that has been marred by the devastating aftermath of the colony's attack. Licinio must rely on his alien friends to help him survive and figure out what happened on Dev Boylun.
A sample of the "thinking person's science fiction," Befriending Aliens is a complex world in which hundreds of characters are involved in the bureaucracies of their own individual races, and the politics of coexistence. As the title suggests, humans and aliens are bound together to a similar fate as comrades in existence, despite the differences that define them, and the light- years between them.
"My pet peeve with movie and TV science fiction is that they present an impossibly simple universe," Druid says. "I've set out to rectify that and also to eliminate the alien-of-the-week syndrome."
Druid does this by fully illustrating the two alien races of the book—the Varangians and Felidae, to show that they are as developed as their human counterparts. Also added to the comparison to exotic life-forms is the contrast between worlds, as religion, trade, and justice are explored between civilizations.
Befriending Aliens, in its depiction of galactic disaster, illustrates the fullness of consequence, both human and alien.
Befriending Aliens
By: Norma Druid
ISBN: 978-1462888399 Paperback: $19.99
Available at http://www.amazon.com.
About the author
Befriending Aliens is Druid's second book. She previously published A Test of Alien Alliance, establishing a saga of which Befriending Aliens is the prequel. Druid lives in Nashville, TN.