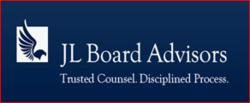 Southport, CT (PRWEB) February 15, 2013
Jack L. Lederer, a widely respected authority on executive compensation, announced today the launch of JL Board Advisors, an independent consulting firm that will advise Board-level Compensation and Governance Committee directors and senior Human Resources executives on the selection of executive compensation consultants.
Recently enacted legislation – notably, the Dodd-Frank Wall Street Reform and Consumer Protection Act – has added greater complexity to corporate governance, and for the first time, has made selection of executive compensation consultants a direct responsibility of the Compensation Committee of a company's board. The new law also requires that directors disclose in the company's annual proxy how they oversaw the selection, remuneration and management of compensation advisors, and must ensure that those advisors are conflict-free and fully independent of corporate management.
"This rigorous regulatory environment," according to Columbia University Law School Professor Robert J. Jackson, Jr., who worked on the Dodd-Frank legislation on executive compensation, "not only means that boards must completely oversee, control and own the compensation-related decisions they make. They must also explain and defend those decisions as being in the best interest of shareholders."
With offices in Southport, CT and New York City, JL Board Advisors will provide corporate directors and HR professionals with strategic counsel as well as tactical support; leveraging the firm's comprehensive industry knowledge and proprietary methodologies to ensure a sophisticated, objective and risk-averse approach to the selection of compensation consultants, consistent with Dodd-Frank requirements and governance best practices. JL Board Advisors will also assist companies with CEO performance evaluations, which now carry far greater regulatory exposure, increased reporting requirements and more intense shareholder and public scrutiny.
JL Board Advisors' founder and managing partner, Jack L. Lederer, has been a recognized authority on executive compensation over the past 25 years. Previously Jack served as Partner and National Practice Leader for PricewaterhouseCoopers. Based on his extensive experience with FORTUNE 1000 and Not-for-Profit clients, Mr. Lederer created JL Board Advisor's proprietary methodology for defining Committee consultant requirements, identifying possible lead consultants, developing and scoring Request for Proposals (RFPs), conducting and evaluating compensation consultant interviews, and for supporting board Compensation Committee members in the final selection of the most appropriate consultant.
Mr. Lederer said, "There are nearly 50 compensation consulting firms and more than 150 lead consultants currently worthy of consideration by Boards of Directors. Our mission is to provide clients with objective information, conflict-free guidance and a disciplined selection process that will add tangible value – in terms of time and cost efficiencies, risk management and quality of outcomes – in what can be a very elaborate and confusing process for most organizations. Additionally, we seek to empower companies to conduct and validate an unbiased, fully-informed and transparent decision-making process to all internal and external stakeholders, as well as regulators."
He also noted that JL Board Advisors will have no affiliation with any executive compensation consulting firm, or receive any compensation from them.
For additional information about JL Board Advisors, contact Jack L. Lederer directly.