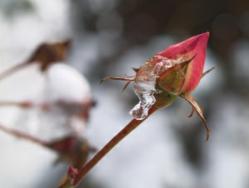 Long-term storage can sometimes pose a risk, so English Woodlands have released advice on keeping plants safe until planting becomes appropriate
East-Sussex, (PRWEB UK) 18 February 2013
Winter is an excellent period for planting, and many consumers use the time to invest in new plants. They'll be dormant, minimising the shock of transplantation from nurseries and containers to a new garden. Counter-productively, when temperatures drop enough to freeze the ground planting becomes inadvisable, with a sincere risk of causing severe root damage or killing the new plant.
The UK recently emerged from a week-long freeze, and there are worries the country may see another before February ends. With many customers making purchases in the winter, English Woodlands are asking the public to stay aware of temperatures, and avoid planting if the ground hasn't definitively thawed. After delivery long-term storage can sometimes pose a risk, so the company have released a detailed advice series on keeping plants safe until planting becomes appropriate. Plants are supplied bare root, rootballed or in containers depending on their size and variety, and advice can now be found on-line relating to each method.
The first portion of the series concerns rootballed trees, which come complete with wire or hessian securing the soil, serving to preserve moisture. The series outlines cool, sheltered areas gardeners can consider for storage, as well as safe methods of insulation for the plant. Handling frozen roots poses a risk to the plant, so insulators such as straw are compared for their effectiveness.
The series also covers trees in containers intended for ground planting. The post covers finding cool areas to store them in, and the importance of keeping them away from warmer zones. Insulators such as bubble wrap are compared, along with correct methods of bagging or wrapping a tree being kept outdoors.
A large portion of the series is dedicated to storing bare root plants, which require the most care on the part of the gardener. They arrive supplied tied in bundles, and bagged. The company outlines storage times, 7-10 days, and what to do if the length of time needs to be exceeded. This is the practice of 'heeling in', temporarily planting until it becomes possible to do so permanently. The guideline walks consumers through placing the bundled plants into a hole or trench in the soil, with the roots lightly covered with compost. Plants can remain secure in this fashion for weeks.
A representative from the company commented on their new advice series, currently hosted on the English Woodlands blog. "We see a lot of sales in the middle of winter, with customers aiming to maximise the benefits of winter planting. We receive many questions regarding how to plant through a freeze, we hope documenting our expertise on-line will help keep customers better informed, though we're always happy to help with direct queries."
Based in East-Sussex, English Woodlands have supplied trees, plants and planting accessories around the UK since 1919. They sell themselves on a mixture of high quality products and expert support, and intend to see both these services expand in the coming year.