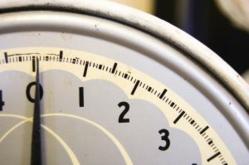 Towards February and March consumers begin to experiment with brands, products and weight-loss techniques more widely.
Peterborough (PRWEB UK) 18 February 2013
The tail end of winter is often dominated by a surge in the popularity of weight loss products. Making the decision to lose weight has long been a staple of the most popular New Year's resolutions, only edged out from first place in 2013 by finance and saving resolutions.
Conventionally, the first two months of the year are characterised by fast-gain detox programmes, based on what is currently receiving the most coverage in mainstream news sources. In the case of 2013, this was the Madal Bal lemon detox diet, which Muscle Finesse supported accordingly. Towards February and March consumers sticking to their goals begin to experiment with other brands, products and techniques more widely. In response, Muscle Finesse announced an expansion of their weight loss supplements range to meet consumer demand.
One of the major areas of expansion is into weight loss products which focus on use accompanying a heavy exercise regime, rather than a more relaxed detox programme. A large proportion of dieters lose confidence and determination throughout the first few months of their resolution, and the remainder looking to stick to their goals often become stringent gym attendees. The Animal Cuts and Fitness Authority brands are both founded on lipotropic releases working in tandem with a rigorous exercise regime, focused on intensive cardio training.
The January detox craze from February peters out towards the beginning of March, with dieters seeking long-term solutions to their nutritional goals. Where detoxes provide fast results, they often prove to be short-lived. Interest increases in permanent dietary changes with more sustainable nutrition, instead. Muscle Finesse have begun increasing their stock of USN Diet Fuel, a meal replacement formula intended to increase fat burn during light exercise and suppress appetite.
A customer service representative from Muscle Finesse was available for comment on the company's expansion into other brands. "Although fitness is a constant concern in the public, it does feature certain seasonal elements. We find it fairly easy to predict where consumer demand will be headed in the first few months of the New Year, starting with detox programmes before evolving into longer programmes which involve permanent nutritional changes and gym attendance. People begin turning to online resources and personal trainers to help them set more achievable goals, and set about pursuing them in full. By expanding these ranges we simply hope to meet the demand for a wider range of choices and brands in weight loss. Where January is dictated by popular trends, late winter and spring dieters rely more on personal research."
Muscle Finesse are a Peterborough-based seller of bodybuilding supplements, equipment, clothing and accessories, dealing with consumers and companies across the UK. By increasing their range of weight loss products they hope to satisfy the consumer demand for choice and agency in their dieting regimen.