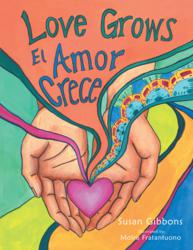 New York, NY (PRWEB) February 16, 2013
What if your child lived in a country where an education is not guaranteed and there is little hope to even learn to read or write?
If you're reading this, chances are your child does not live in Honduras. However, with the advent of increased globalization, we are all connected in a way that makes a faraway cause hit close to home.
In the dismal situation of Honduras' status as third poorest country in the Western hemisphere, an individual named Paty Villanueva decided to start a school for children in her village of La Entrada. At this school, aptly named Hearts For Honduras, students receive a quality education that would otherwise be unattainable.
Honduran children are burdened with a plight to break out of a vicious cycle of poverty that has been designated onto them by chance. Love Grows, a new children's book by Susan Gibbons, presents these children to young readers and follows Paty's mission as she resolves to turn her village's heartache into hope.
Social responsibility can be a difficult lesson for parents to teach. Reading Love Grows to a child is an investment in character development, as it creates a dialogue for global compassion. With one hundred percent of sale proceeds going to the Friends of Heart For Honduras Foundation, Love Grows is a chance to introduce children to humanitarian efforts. From the purchase of this book, children are directly helping the Honduran children they read about, which thereby makes them feel less helpless about the heartbreaking tragedies that are occurring in the world.
With Honduran art and Spanish translations decorating its pages, Love Grows is a testament to the beauty and innocence that, in the face of suffering, courageously lives on.
For more information on Hearts For Honduras and the American non-profit that supports them, please visit http://www.friendsofheartsforhonduras.org/
Love Grows
By: Susan Gibbons
ISBN: 978-1-4772-6732-5 Paperback: $19.99
Available at http://www.amazon.com.
About the author
A mother to three boys, Susan Gibbons wrote Love Grows for her son's kindergarten class Valentine's Day celebration. Intended as a lesson of how to elevate the holiday into an expression of higher love year round, Love Grows was so popular with the children that Gibbons decided to publish the book. Gibbons works with several child-serving non-profit organizations, and frequently travels to Honduras to assist with the Hearts For Honduras School. She lives in New Jersey with her children and husband.