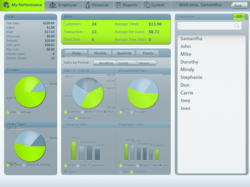 I had no idea I was missing so much critical information
Naples, FL (PRWEB) February 14, 2013
"It all came down to business intelligence" said Onur Haytac, Benseron's CEO. Significant data, collected real-time and easily accessible, makes managing staff, and the bottom line, simple and effective for on-the-spot executive decision-making. Manageable cost related issues include, are staff on time, are customers left waiting for their food, are staff processing credit cards table-side, is the hostess getting seats filled as soon as possible, which servers are successfully up-selling and were staff able to collect credit card payment on-site at the wedding that was catered? This data can now be collected real-time, stored instantly on the cloud, and retrieved real-time, from anywhere, at any time with Benseron's new Bevo POS system. Just released into the market, and making headlines in the process, Bevo has taken point of sales systems light years ahead of what is available to the industry. The Benseron team spent years in research and development, starting completely from scratch, to master the most prominent challenges restaurant owners have, to offer a single master solution for this industry, and it's just been released!
Benseron's Bevo point of sale system is the first ever hybrid POS application and the first fully redundant POS application in this industry. This extraordinary technological feat enables cross platform products like Android, iPad and Windows OS to run the Bevo software with the same graphical user interface. So the master terminal, the iPad and the Bar terminal screen all look and function identically, while syncing constantly with one another and the cloud. "This is generations beyond what has existed previously" answered Haytac, when asked how this compared to other software. Bevo has been designed from scratch, with no third party controllers or components available in the marketplace, an extremely sophisticated system with an elegantly simple and intuitive presentation. The innovative hybrid technology enables restaurant owners to use handheld tablets tableside, from taking orders to accepting and processing payment in seconds, while continuously updating the sales information on the cloud database. With both cloud and server networking, owners have the ability to access real-time data about all aspects of their business from anywhere, at any time. Simply go to the App store, download, and start managing from the anywhere, with real-time data! All parts of the Benseron system are this simple, plug and play ready, and will continue to function, regardless of internet connectivity. These capabilities will exponentially increase an owner's ability to manage their business, both at the restaurant and from home.
The Windows module of Benseron's Bevo system became available to the marketplace on February 1st, 2013. Benseron POS reviews from customers who have had the opportunity to test the Bevo system have given extremely positive feed back in areas of speed, simplicity, reporting systems, customizability and tech support for help with customizing, among others. "I had no idea I was missing so much critical information before I started using Benseron's POS" – restaurant owner and Bevo demo tester Andre, in NYC. For more information, visit http://www.bevopos.com or call 866-620-2785.