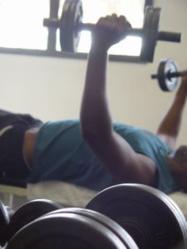 People can achieve a certain amount through online guidance... but there's no resource that can compare to directed training by a professional
Peterborough (PRWEB UK) 15 February 2013
The first few months of the New Year are often some of the busiest for the fitness industry. Gym memberships explode in popularity, with detox and diet products representing one of the largest seasonal booms. This continues until February and March, when the initial dieting and detox craze dies down, those who are left focus on structured and consistent exercise routines, which are far more successful in terms of attaining long term fitness goals.
Creating an organised regimen for improving fitness is by no means an easy task, and a little guidance early on plays a large part, whether working towards weight loss or muscle mass. Muscle Finesse are now offering an exclusive offer to their customers looking to get serious about fitness, in the form of free personal training sessions in association with Ultimate Sports Nutrition.
USN are market leaders in the field of sports nutrition, from meal replacement substitutions to protein shakes and muscle recovery boosters. They're one of the most highly recommended general-use products listed on MuscleFinesse.com, and are often the subject of offers to help improve their visibility among consumers.
Currently, any purchase in excess of £60 will come with an accompanying voucher for a free, hour-long personal training session redeemable at dozens of locations across the United Kingdom, with an opportunity to extend towards more lessons at a later date. The offer is limited to purchases of Ultimate Sports Nutrition products, though as long as the price of USN products is over £60 any other products can be bought in the same purchase to take advantage of delivery rates.
A representative from the company was available to comment on the new offer. "We're pleased our partnership is freeing us up to extend offers like this. People can achieve a certain amount through online guidance and self-planning, but there's really no resource that can compare to directed training by a professional. Having someone judge your capabilities and recommend exercises based on your status as an individual is unmatched, not even considering the value of having someone to support you through difficult training. Some people will be fine without ever using a trainer, but introducing people to the possibility is worthwhile. With the offer on USN products we hope to see a little more interest in the service, and help a few more individuals reach their fitness goals."
Muscle Finesse are online retailers of weight lifting supplements, clothing and equipment. Supplying both individuals and companies across the UK, they are now one of the leading suppliers in the industry. By extending this offer on USN products they hope to help consumers stick to their fitness goals in the New Year.