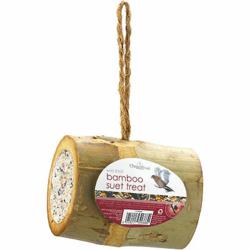 The new products are designed to feed birds effectively without sticking out in an attractively structured garden
Leyland (PRWEB UK) 15 February 2013
Each winter almost forty per cent of birds in the United Kingdom migrate south for more temperate climates, most commonly coastal areas around France and Africa. Feeding the remaining avian population isn't difficult, but does represent an additional responsibility for bird enthusiasts around Britain.
During the winter birds have substantially enhanced nutritional requirements. A high number of calories are necessary to keep them insulated and airborne. Even with reduced bird numbers many of the individuals who feed them find their supplies running out faster than ever, and providing appropriately filling meals is a must. To help support their customers over the enduring cold season, Garden Centre Online are expanding their range of suet feed to include a number of decorative variants.
Introducing products from the ChapelWood family of products, the new investments are designed to feed birds effectively without sticking out in an attractively structured garden. Hanging bamboo treats are filled with suet, while their dimensions provide a handy, organic perch for birds. The halved coconut treats are also filled with suet, and are well suited to larger birds with the ability to cling on to them. Pinecones have long been popular homemade feeding solutions, and the suet-soaked pinecone feeder is ideal for consumers seeking natural hangers with the dimensions to support both large and smaller birds.
A representative was available to comment on behalf of Garden Centre Online, and discussed the new additions to their stock. "We're always expanding and re-evaluating our stock to meet consumer demand, and recognise the trends our customers wish to be a part of. We've always kept an extensive suet stock during the winter for its well-known nutritional benefits, though we've received some feedback from customers complaining that bulky suet feeders don't aesthetically gel with the rest of their garden and feeding apparatus. One of the main attractions to bird feeding is the aesthetic value, so it's a fair point. Obviously, we want to encourage effective and nutritious bird feeding year round, so we hope introducing decorative products will help us to diversify better."
Suet is widely considered to be one of the most appropriate winter feeding products for garden birds. It's traditionally made from a mixture of beef and lamb fat, melted and reformed into cakes, pellets and balls. The ability to break off small chunks makes it appropriate for birds of all sizes, unlike certain oily seeds, and it's high enough in calories to sustain a large, hungry bird population.
GardenCentreOnline.co.uk are a retailer dealing in gardening accessories, garden tools and home wares. By expanding into more decorative markets they hope to satisfy a growing proportion of the bird feeding market market looking for affordable yet attractive solutions.